Credits
Writer: Jei D. Marcade
Beta Testers: Ellysha Adlin, Deb Apprille, Rose Cartier, Ryan Cheng, Cayla Einstein, Alissa Franklin, Mihir Jichkar, Cameron Knox, Matthew Mejia, Säde Pesonen, Gray Rivera, Isabel Sanford, Sky, Kayla Tuttle, Raymond Watson
Managing Editor: Abigail C. Trevor
Copy Editing: Eliot West
Art: Jerel Dye
ChoiceScript Language: Dan Fabulich
"Witchcraft U" is Copyright 2021 Jei D. Marcade. All rights reserved.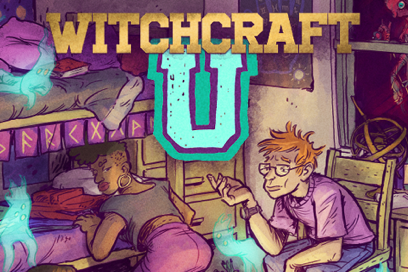 About the Author
Jei D. Marcade is a speculative fiction writer whose work has appeared in Uncanny Magazine, Tiny Nightmares: Very Short Tales of Horror, and EscapePod. They have also written tie-in fiction for Green Ronin's Freeport RPG as well as their own solo TTRPGs, including One Night at a Thyme: Spooky Season. Jei can be found haunting jeidmarcade.com and tweeting sporadically from @JeiDMarcade
About Choice of Games LLC
Choice of Games LLC is a California Limited Liability Company dedicated to producing high-quality, text-based, multiple-choice games. We produce games in house, including Choice of the Dragon and Choice of Broadsides. We have also developed a simple scripting language for writing text-based games, ChoiceScript, which we make available to others for use in their projects, and we host games produced by other designers using ChoiceScript on our website. All of our games are available on the web. We also produce mobile versions of our games that can be played on iPhones, Android phones, and other smartphones.
We announce new games on our blog, Twitter, Facebook, and Google Plus.
More about Choice of Games LLC