Credits
Writer: Paul Wang
Art: Paul Wang
Copy Editing: Kirsten Hipsky
Beta Testers: Phillip Barrett, Joel M. Bridge, Nathaniel Garcia, Guillaume Gilbert, Bryce Kaldwin, Haresus, MrWolf101, Cole Nixon, Ramidel, Jim Ross-Drummond, Julia Smith, Sneaks, Verand, William Thompson
Managing Editor: Abby Trevor
ChoiceScript Language Design & Development: Dan Fabulich
"Choice of Broadsides: HMS Foraker" is Copyright 2018 Heather Albano, Dan Fabulich, and Adam Morse. All rights reserved.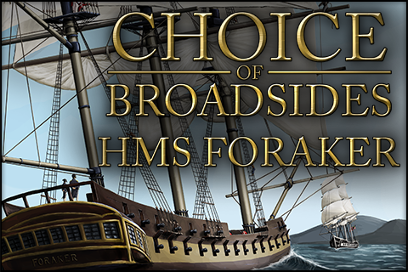 About the Author
Paul Wang is an independent game developer and writer of interactive fiction currently living in Burnaby, British Columbia, Canada. He previously authored Mecha Ace and The Hero of Kendrickstone for Choice of Games. He is also the author of Sabres of Infinity and Guns of Infinity, ChoiceScript games published by Hosted Games. He has a B.A. in History from Simon Fraser University.
About Choice of Games LLC
Choice of Games LLC is a California Limited Liability Company dedicated to producing high-quality, text-based, multiple-choice games. We produce games in house, including Choice of the Dragon and Choice of Broadsides. We have also developed a simple scripting language for writing text-based games, ChoiceScript, which we make available to others for use in their projects, and we host games produced by other designers using ChoiceScript on our website. All of our games are available on the web. We also produce mobile versions of our games that can be played on iPhones, Android phones, and other smartphones.
We announce new games on our blog, Twitter, Facebook, and Google Plus.
More about Choice of Games LLC