Credits
Writer: Kyle Marquis
Beta Testers: Natalia Carmo, Lee Chamney, Asher Clarke, Genesis Delarosa, Hadi Hanif, Jay'morah Johnson, LeannaMandragoran, Nawaf Mesad, Sara Nesti, Will Page, Justine Anne Pradil, Keisha Robinson, Alexia Walker, Jasmine Walkins, Raymond Watson
Managing Editor: Mary Duffy
Copy Editing: Kate Lascoutx
Art: EJ Dela Cruz
ChoiceScript Language: Dan Fabulich
"Pon Para and the Unconquerable Scorpion" is Copyright 2021 Kyle Marquis. All rights reserved.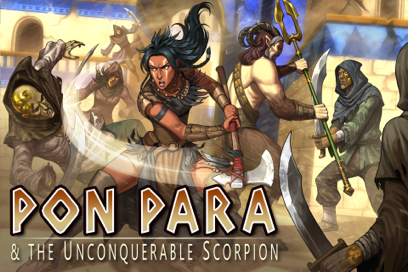 About the Author
Kyle Marquis is the author of six Choice of Games adventures, including Empyrean, Silverworld,The Tower Behind the Moon, and Vampire: The Masquerade—Night Road. He lives in Western Massachusetts with his cat, his laptop, and several water-damaged copies of early 90s White Wolf games.
About Choice of Games LLC
Choice of Games LLC is a California Limited Liability Company dedicated to producing high-quality, text-based, multiple-choice games. We produce games in house, including Choice of the Dragon and Choice of Broadsides. We have also developed a simple scripting language for writing text-based games, ChoiceScript, which we make available to others for use in their projects, and we host games produced by other designers using ChoiceScript on our website. All of our games are available on the web. We also produce mobile versions of our games that can be played on iPhones, Android phones, and other smartphones.
We announce new games on our blog, Twitter, Facebook, and Google Plus.
More about Choice of Games LLC