Credits
Writer: Adrao
Art: Tiffan Yuet
Beta Testers: Poison_Mara, Cecilia_Rosewood, Pace675, Guhik, Lglasser, Curious_Boy, ParrotWatcher, UmbraLamia, Abe, RedRoses, Monk65, readher, stsword, dun300, gamesrgreat, cabinpersephone, Dark_Stalker, Darakkuu_Nobelu, nocturne, SeventhJackel and Shawn_Patrick_Reed.
ChoiceScript Language Design & Development: Dan Fabulich
"Tokyo Wizard" is Copyright 2016 Miguel Esteban. All rights reserved.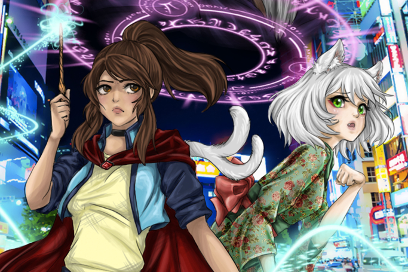 About the Author
Adrao is a university lecturer, writer and programmer that has lived in Japan for well over a decade now. If you liked this game make sure to follow for updates of this and other games on Facebook.
Special Thanks
Special thanks to Lordish, Eric_Moser, Felicity_Banks on the Choice of Games forums for their insights and inspiration. Also thanks to Gorka, Sergio, Ismael, Zeke, Meg, Kevin, David, Hwan/Juan, and everyone else for the many conversations regarding this game through the last few months. Finally, this story is to dedicated to Eunjoo. Thanks so much for putting up with me working late into the night.
About Choice of Games LLC
Choice of Games LLC is a California Limited Liability Company dedicated to producing high-quality, text-based, multiple-choice games. We produce games in house, including Choice of the Dragon and Choice of Broadsides. We have also developed a simple scripting language for writing text-based games, ChoiceScript, which we make available to others for use in their projects, and we host games produced by other designers using ChoiceScript on our website. All of our games are available on the web. We also produce mobile versions of our games that can be played on iPhones, Android phones, and other smartphones.
We announce new games on our blog, Twitter, Facebook, and Google Plus.
More about Choice of Games LLC