Credits
Writer: Jim Dattilo
Contributing Writer for Part 2: Brittany Martin, Mia, Ethan David Underhill
Beta Testers: Amr "AAO" Enani, Ben Burwell, Brittany Martin, Dylan Horvath, Erika Zipser, Fay Blackmore, Fluffy_Buffy, Ginger Clarke, Guillermo Dominguez, Igor Sokolov, Imminent_Objection, James "TheDrake" Liu, Jean "Lithophene" Moreno, Jennifer Braun, Jon Lunsford, Joshua Obiol, Lazar Andrei, Lycoris, Marajade "the poisoner", Marc Ruiner, Marie Peters, MrNoahall, Natalie Biele, Nathan Faxon, Nevada Adie, Oliver "Bugreporter" Stevenson-Hoare, Pace675, ParrotWatcher, Phil Clark, SoulsOfTheDamned, "Tom" Jung H Park, Tom Rayner, Tracey Qin, Tuhin Subhra Maity, Viktor Akse, Will Thompson, and Victoria Dattilo.
Special Thanks: Austin Atterbury-Kiernan, Drew Halverson-Allen, Scott Brinster, Annie G., Robert Kirby, Eliza Li, James "TheDrake" Liu, Jesse "StarKnight" Saenz, Nevada Adie, Rick Sullivan, Patric "The Stag" Wilkins
Copy Editing: Brad "J" Warner
Art: Noah Patrick Pfarr
ChoiceScript Language Design & Development: Dan Fabulich
"Zombie Exodus: Safe Haven" is Copyright 2016 Jim Dattilo. All rights reserved.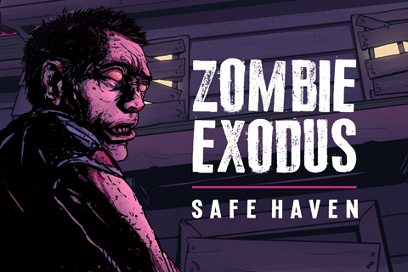 About the Author
Jim Dattilo spends most of his time number crunching and writing technical documents for the University of Pennsylvania's Perelman School of Medicine. He studied English Literature and Biology at La Salle University in Philadelphia, where he currently lives with his wife, Vicki, and his pit bull, Cody. He is a lifelong roleplaying game enthusiast and currently runs a tabletop, self-written Zombie Apocalypse game.
In partnership with Choice of Games, Jim Dattilo auctioned off the naming rights to two characters to benefit My Friend's Place, a Los Angeles shelter for homeless teens. Nathan Mubasher won the first auction and named the character "Nathan Mubasher" and Sifer Aseph won the second auction and named the character "Sifer Aseph."
Special Thanks
Special thanks to Jerred Manns, Joshua Place, Owen Brady, and Sarah Stamp for contributions and to Bob Middleton for coding ideas and implementation and the Choice of Games community for beta-testing. If you are looking for an amazing interactive fiction community, visit the forums.
About Choice of Games LLC
Choice of Games LLC is a California Limited Liability Company dedicated to producing high-quality, text-based, multiple-choice games. We produce games in house, including Choice of the Dragon and Choice of Broadsides. We have also developed a simple scripting language for writing text-based games, ChoiceScript, which we make available to others for use in their projects, and we host games produced by other designers using ChoiceScript on our website. All of our games are available on the web. We also produce mobile versions of our games that can be played on iPhones, Android phones, and other smartphones.
We announce new games on our blog, Twitter, Facebook, and Google Plus.
More about Choice of Games LLC