Credits
Writer: Kyle Marquis
Art: Edouard Noisette
Character Portraits: Amy Wilkins
Copy Editing: Chris Wolfgang
Beta Testers: Ruslan Abdurashitov, Ellysha Adlin, Hannah Alleyne, Daria Amelina, Dale Barraclough, Philip Barrett, Katherine Burke, Natalie Cannon, Blattella Chua, Jac Colvin, Ian Crider, James D, Cory Davidson, James DeGaray, Sayer Detling-Edsall, Tamara Diaz, Vanessa Dickson, Miles Edens, Roberto Faggio, Ryan Fileccia, Ursula Galvao, Alicia Gugele, Hadi Hanif, Molly Heston, Sveinn Hjerskald, Kai Jackson, Kevin Johnston, Veronica Jones, Safwan Khan, Jayden King, Amar Kshetrapal, M. Laird, Gaia Lambruschi, Serin Lee, Hanz Magbutay, Taylor Methe, Krzysztof Morawski, Bill Na, Zachery Naldrett, Cole Nixon, Jacques Ortiz, Sara Paver, Della Qu, Eric Rodriguez, David Rosenberg, Jim Ross-Drummond, Brian Rushton, Isabel Sanford, Jaysen Shah, Mori Shankweiler, Saloni Singla, Jamichael Smith, David W. Snee, AJ Solis, Jennifer Speerstra, Daniel Spinola, Cynthia Sulit, Wyatt Sullivan, Sean Swanson, Eric Thomas, Phillip Yan
Managing Editor: Jason Stevan Hill
ChoiceScript Language Design & Development: Dan Fabulich
Copyright © Paradox Interactive AB and developed by Choice Games LLC under license. Vampire: The Masquerade® is a registered trademark of Paradox Interactive AB. All rights reserved.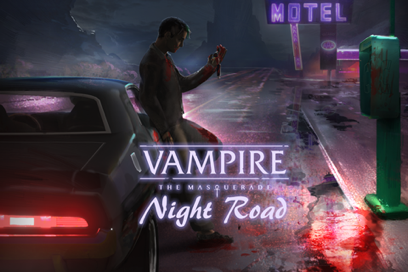 About the Author
Kyle Marquis is the author of five Choice of Games adventures, including Empyrean, Silverworld, and The Tower Behind the Moon. He lives in Western Massachusetts with his cat, his laptop, and several water-damaged copies of early 90s White Wolf games. His latest game, Night Road, takes players across the World of Darkness as a vampire courier trying to survive the desert highways of the American Southwest.
About World of Darkness
World of Darkness is a transmedia entertainment brand encompassing a number of modern fantasy horror franchises, including [i]Vampire: The Masquerade, Werewolf: The Apocalypse,[/i] and more. Through tabletop roleplaying games, video games, board games, literature, comic books, and more, these franchises tell mature stories in a dark supernatural fantasy layered over our modern world. Since 1991, World of Darkness has defined monster-perspective entertainment for a generation of fans. For more information visit www.worldofdarkness.com.
About Choice of Games LLC
Choice of Games LLC is a California Limited Liability Company dedicated to producing high-quality, text-based, multiple-choice games. We produce games in house, including Choice of the Dragon and Choice of Broadsides. We have also developed a simple scripting language for writing text-based games, ChoiceScript, which we make available to others for use in their projects, and we host games produced by other designers using ChoiceScript on our website. All of our games are available on the web. We also produce mobile versions of our games that can be played on iPhones, Android phones, and other smartphones.
We announce new games on our blog, Twitter, Facebook, and Google Plus.
More about Choice of Games LLC