Posted by: Dan Fabulich | Comments (5)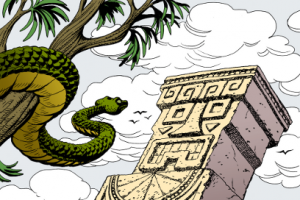 Mark your calendars! "To the City of the Clouds," the newest game under our "Choice of Games" label, will be released on Friday, October 26. Download it on Friday from the iOS App Store, the Android Google Play Store, or the Chrome Web Store. A free trial version will be available on our website.
Search for the lost Incan city known as La Ciudad de las Nubes in the mountains of Colombia. Your fledgling archaeologist will battle venomous pit vipers, tropical diseases, and the FARC guerrilla army to secure fame, fortune, and tenure at a prestigious university. Alcohol, lustful young students, and Incan spirits delight and bedevil you along the way. Choose your persona, your sexual orientation, and your propensity to wear khaki native huipiles…then let the adventure begin!
If you'd like to be reminded when the game is available, subscribe to our blog on the right-hand side of this page, or follow us on Twitter, Facebook, or Google+. We'll run one more blog post on Friday to post download links.
In the meantime, we're running a countdown on Twitter/Facebook/G+, featuring quotes from the game.
Monday: "Who says technical socks can't be sexy? Black with silk ribbing at the ankle—yes please!"
Tuesday: "The whip has multiple uses. Sado-masochistic lovers? Jungle cats? You've got it covered."