Posted by: K L | Comments (6)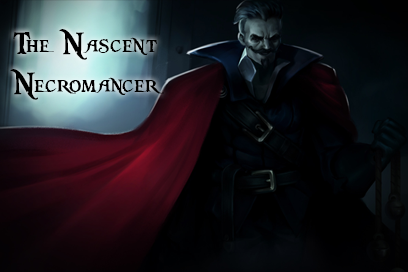 We're happy to announce that The Nascent Necromancer, our popular Hosted Game by Samuel Young, is now available on Steam for the first time ever!
To celebrate, you can buy The Nascent Necromancer for 33% off until December 7th.
Sorcery is forbidden and punishable by death. These punishments are summarily handed out by the Witch Hunters, a powerful organization of inquisitors.
When a group of corrupt witch hunters comes to your village, accusing your brother of sorcery and wrongly accusing you of abetting him, your life takes a violent and abrupt change for the worse. After you've suffered more than you can bear and endured terrible tragedy, perhaps your only option left is to become the very thing that your enemies fear and despise so much.
The Nascent Necromancer is an epic, 238,000 word interactive fantasy novel by Samuel Young, where your choices control the story. It's entirely text-based, and fueled by the vast, unstoppable power of your imagination.
Play as male, female, or nonbinary. Romance men, women, both, or no one at all.
Embark on a perilous journey, facing witch hunters, trolls, and goblins as you seek to gain the terrible power that will bring you revenge on your persecutors.
Romance the cold, aloof Tozi; the sarcastic, charismatic Tanno; the shy, sweet Kenda; the kind, easygoing Meylor; or even the idealistic witch hunter, Lonnie.
Read approximately 100,000 words per playthrough!
Choose among three kinds of spells; mental, physical, or conjuration. Cast torture spells; summon flying, undead hands; control the minds of your enemies, and much more.
If they want a witch hunt, you'll give them one.