Posted by: Dan Fabulich | Comments (17)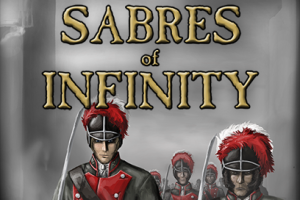 We're proud to announce that Sabres of Infinity, the latest in our Hosted Games label of multiple-choice interactive-fiction games, is now available for iOS, Android, and, via the Chrome Web Store, Windows, OS X, and Linux.
Fight for glory as an officer of the Royal Tierran Army in a rich, low-fantasy world where gunpowder and magic rule the battlefield. Choose a horse, pick a sergeant and lead a unit of Royal Dragoons through five years of brutal war.
"Sabres of Infinity" is an epic interactive novel by by Paul "Cataphrak" Wang where you control the main character. In each chapter, your choices determine how the story proceeds.
Battle your enemies with your mind, your wits or with pistol and sword. Earn the loyalty of your subordinates and the friendship of your fellow officers, or betray them for your own gain. As armies, heroes and philosophies clash in the forests of the north, your choices could mean the difference between everlasting glory and an ignominious death.
We hope you enjoy playing Sabres of Infinity. We encourage you to tell your friends about it, and recommend the game on StumbleUpon, Facebook, Twitter, and other sites. Don't forget: our initial download rate determines our ranking on the App Store. Basically, the more times you download in the first week, the better we'll rank.