Posted by: Dan Fabulich | Comments (14)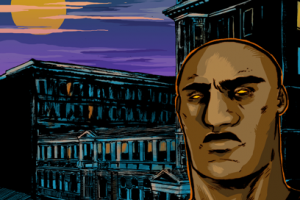 We're proud to announce that Choice of the Vampire: The Fall of Memphis, the sequel to 2010's hit Choice of the Vampire, is now available for iOS, Android, Kindle Fire, and, via the Chrome Web Store, Windows, OS X, and Linux.
Feast on the blood of a dying city: Memphis, 1873! Make your national debut in the Society, a conspiracy of vampires who convene in Memphis to elect a new "senator." The city burns with yellow fever, as the nascent Ku Klux Klan rises.
"Choice of the Vampire" is the epic interactive novel by Jason Stevan Hill where your choices determine how the story proceeds. The game is entirely text-based–without graphics or sound effects–but driven by the vast, unstoppable power of your imagination.
What will you take from Memphis before the city collapses? Will you battle the Klan, or control them from within? Will you rekindle a romance that transcends death? The choice is yours.
We hope you enjoy playing Choice of the Vampire: The Fall of Memphis. We encourage you to tell your friends about it, and recommend the game on StumbleUpon, Facebook, Twitter, and other sites. Don't forget: our initial download rate determines our ranking on the App Store. Basically, the more times you download in the first week, the better our games will rank.