Posted by: Dan Fabulich | Comments (5)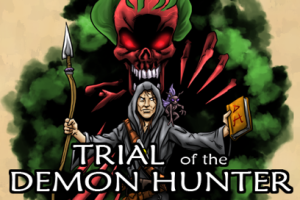 We're proud to announce that Trial of the Demon Hunter, the latest in our Hosted Games label of multiple-choice interactive-fiction games, is now available for iOS, Android, and, via the Chrome Web Store, Windows, OS X, and Linux.
Trial of the Demon Hunter is an interactive fantasy novel by Samuel Harrison Young where your choices control the story. Battle against the forces of evil and embark on a perilous journey to avenge your decimated village alongside your shape shifting companion.
We hope you enjoy playing Trial of the Demon Hunter. We encourage you to tell your friends about it, and recommend the game on StumbleUpon, Facebook, Twitter, and other sites. Don't forget: our initial download rate determines our ranking on the App Store. Basically, the more times you download in the first week, the better we'll rank.