Posted by: Dan Fabulich | Comments (9)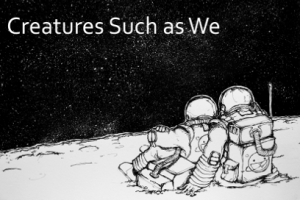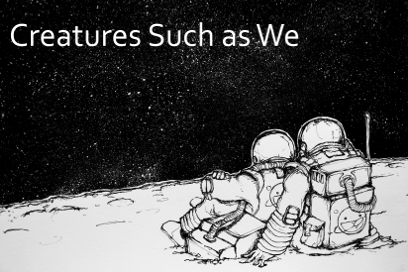 Choice of Games is proud to announce that Creatures Such as We by Lynnea Glasser is now available for free on iOS, Android, and our web site.
Creatures Such as We is a philosophical interactive romance novel where your choices control the story. It's entirely text-based–without graphics or sound effects–and fueled by the vast, unstoppable power of your imagination. It's completely free, including no in-game advertisements and no in-app purchases.
In Creatures Such as We, living on the moon is lonely, and stressful, and exhausting. Video games have always offered you an escape to a better life. The easy, happy life you wish you had. Which makes it so frustrating when the game you've been playing ends badly. But you have a chance to figure it out, because the next tourist group is the game's designers. You can debate with them about art, inspire them with the beauty of outer space, get closer to any one specific designer in particular, and finally find out how to get the ending you always wanted.
Immerse in the beautiful setting of a moon-bound tourist destination a tourist destination.
Explore the meaning of gaming as a form of artistic expression with a cast of game designers.
Inspire profound discussions, courage, and even love with the visiting space tourists.
Six unique character paths, with options to be romantic or maintain strict professionalism.
Play both your character, and the character of the game-within-a-game.
Decide for yourself the best way to bridge the gap between game players and designers.
Inclusive options for gender identity, orientation, race, and age.
Creatures Such as We is One of the Best Games of IFComp
Lynnea wrote Creatures Such as We in ChoiceScript as part of the 20th Annual Interactive Fiction Competition (IFComp), where it took second place.
One of the beautiful things about IFComp is that people post lots and lots of online reviews for IFComp games. Leigh Alexander posted about Creatures Such as We in The Guardian. Emily Short posted a full review and highlighted it in her "top tier" (best of the competition) roundup, calling it "Well-paced and richly written."
If you enjoy Creatures Such as We, you might also want to try another of Lynnea Glasser's games, Coloratura, which won last year's IFComp and won "Best Game" in the 2013 XYZZY awards. Coloratura was originally parser-based interactive fiction, where you type your actions instead of clicking on them, but Lynnea later rewrote Coloratura in Twine, which may be easier to try for those of you who are unused to parser-based games.
CoG fans would probably also enjoy a few other choice-based IF games from this year's IFComp, including:
(IFComp is open to the general public to vote for the best games, and it was very tempting to post about it here, but, in coordination with the competition organizers, we decided not to post about IFComp on our blog or forums until the competition was over, remembering what happened when Choice of Games fans flooded the XYZZY ballot box in 2012. Now that the competition is finished, we're more than happy to publish Creatures Such as We under our "Choice of Games" label.)