Posted by: Dan Fabulich | Comments (0)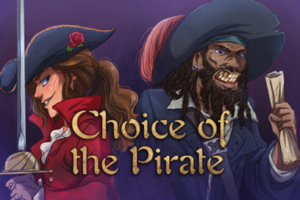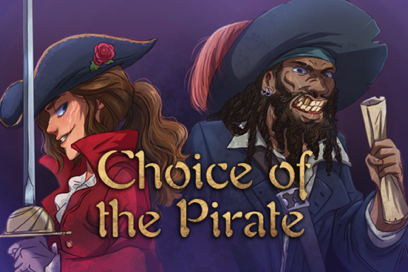 We're proud to announce that Choice of the Pirate, the latest in our popular "Choice of Games" line of multiple-choice interactive-fiction games, is now available for Steam, iOS, and Android. It's 25% off until May 27th!
Plunder ghost ships for cursed treasure! Battle the Crown Navy, sea monsters, and other bloodthirsty pirates on a quest to rival the Pirate King himself!
Choice of the Pirate is a fast-paced swashbuckler of an interactive novel by Alana Joli Abbott, author of "Choice of Kung Fu" and "Showdown at Willow Creek." Your choices control the story. It's entirely text-based—165,000 words, without graphics or sound effects—and fueled by the vast, unstoppable power of your imagination.
Rise from a deck-swabbing sailor to fleet commander over five years of piracy in the tropical paradise of the Lucayan Sea. Command the winds with magic, or board enemy ships with your cutlass in your teeth.
Will you play as male, female, or nonbinary? Find romance as gay, straight, bi, or poly, or pursue friendships and alliances instead? Will you join the Crown as a privateer and bring pirates to heel? Will you parley with the Pirate King to protect the Lucayan from the navy's rule? Or will you duel the Pirate King and claim his power for yourself?
Buckle yer swash and set sail for adventure!
Develop your skills as a swashbuckler, sailor, diplomat, scoundrel, or weather-mage.
Explore a chain of tropical islands where buried treasure and secret pirate camps are hidden.
Face pirate curses, haunted ships, terrifying monsters, and the wrath of the sea herself.
Spy for the Crown or become a double agent to support the Pirate King.
Become a celebrated hero or a ruthless villain.
Play as male, female, or nonbinary; gay, straight, bi, poly, or asexual.
We hope you enjoy playing Choice of the Pirate. We encourage you to tell your friends about it, and recommend the game on StumbleUpon, Facebook, Twitter, and other sites. Don't forget: our initial download rate determines our ranking on the App Store. The more times you download in the first week, the better our games will rank.