Posted by: Rachel E. Towers | Comments (0)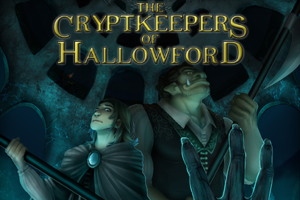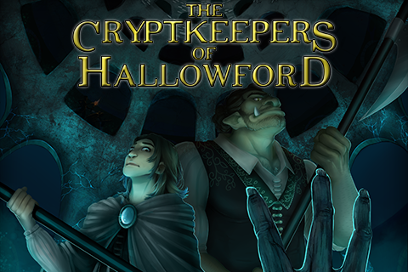 We're proud to announce that The Cryptkeepers of Hallowford, the latest in our popular "Choice of Games" line of multiple-choice interactive-fiction games, is now available for Steam, iOS, and Android!
Sharpen your sword to save Hallowford in this sequel to The Hero of Kendrickstone! Monstrous creatures prowl beneath the streets of Hallowford. When the enigmatic Cryptkeepers Guild sends a call for adventurers, you must answer. You'll discover secrets in the crypts that are better left hidden, and a revelation that will shake Hallowford to its very foundations.
The Cryptkeepers of Hallowford is a 360,000 word interactive fantasy novel by Paul Wang, where your choices control the story. It's entirely text-based—without graphics or sound effects—and fueled by the vast, unstoppable power of your imagination.
Step into the role of a veteran adventurer in a high fantasy world. Sharpen your steel, prepare your spells, and practise your silver tongue. Decide who to trust and who to betray. Discover lost secrets and forbidden magic. Ally with the powerful Cryptkeepers Guild, the town watch, your fellow adventurers, or follow your own agenda. Save Hallowford, or engineer its downfall for your own gain.
• Play as male, female, or non-binary; gay or straight.
• Continue the story of your adventurer from The Hero of Kendrickstone or create a new character.
• Play as a mighty warrior, or a smooth-tongued negotiator, a powerful mage, a stealthy infiltrator, or anything in between.
• Amass ancient secrets and lost knowledge to give you an edge in and out of combat.
• Betray or befriend knights, guildmasters, and your fellow adventurers.
• Delve into the sprawling underground passages beneath the town of Hallowford.
• Be an altruistic hero, a cruel villain, or someone just looking to make a little gold.
Will you complete your quest and save the town? Or will you make enemies of the Cryptkeepers of Hallowford?
We hope you enjoy playing The Cryptkeepers of Hallowford. We encourage you to tell your friends about it, and recommend the game on StumbleUpon, Facebook, Twitter, and other sites. Don't forget: our initial download rate determines our ranking on the App Store. The more times you download in the first week, the better our games will rank.