Posted by: Rachel E. Towers | Comments (0)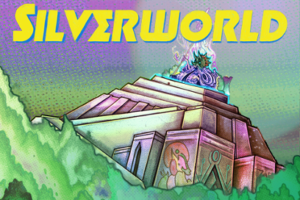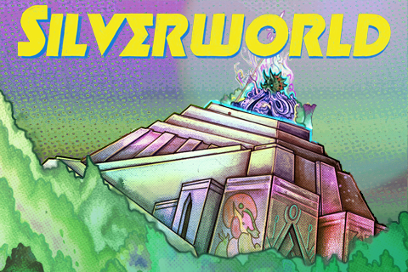 We're proud to announce that Silverworld, the latest in our popular "Choice of Games" line of multiple-choice interactive-fiction games, is now available for Steam, iOS, and Android. It's 30% off until April 19th!
In a world of trackless jungles, colossal beasts, and cruel pre-human civilizations, you must survive the past if you want to save the future! You were only meant to guard the laboratory, but when a treacherous power cripples Doctor Sabbatine's time machine, you're left stranded! Face the savage inhabitants of Silverworld and build your own civilization—or plunder the past and return home unimaginably rich!
Silverworld is a 560,000-word interactive time-travel fantasy novel by Kyle Marquis, where your choices control the story. It's entirely text-based—without graphics or sound effects—and fueled by the vast, unstoppable power of your imagination.
You need allies to survive, but who can you trust? The locals may have already betrayed you to appease their enemies. The empress back home has ordered you to plunder this new world. Your friend survived the crash only for the jungle to infect him, transforming him into something inhuman. And the expedition's chief adviser has imprisoned the Icons—architects of the universe, masters of time—and fled to build his own civilization.
Can you rebuild Doctor Sabbatine's time machine and return home? You must protect your timeline, but at what cost? And after leading the people of Silverworld, will you even want to?
• Play as male, female, or nonbinary; straight, gay, bi, or ace.
• Carve out your own Stone Age nation.
• Face giant lizards, renegade airships, feathered apes, and the volcano fortress of the snake people!
• Uncover the secret history of your benefactor Doctor Sabbatine and her robot helpers.
• Confront challenges with threats or charm, overt violence or subtle tricks.
• Use modern technology to survive, or abandon it and go native!
• Protect the past from exploitation, or be the first to cash in.
• Fight the False Icon, surrender to its will, or try to trick it into granting you your heart's desire.
• Befriend, betray, and romance robots, invincible warriors, and bee women from the Crystal Plains.
• Fight to free the Icons—the creators of the universe—or enslave them for your own ends.
You can save the future…if you can survive the past.
We hope you enjoy playing Silverworld. We encourage you to tell your friends about it, and recommend the game on StumbleUpon, Facebook, Twitter, and other sites. Don't forget: our initial download rate determines our ranking on the App Store. The more times you download in the first week, the better our games will rank.
Available in the "Choice of Games" app for iPhone and iPad
The Choice of Games "omnibus" app is a new way to play our games on iOS: a single app that collects all of our Choice of Games titles in one place.
(The omnibus app is only available on iOS for now, not Android.)
Download the omnibus for free, and you'll receive free, unlimited access to some of our classics, and free demos of our greatest hits and new releases.
Learn more about the omnibus in our omnibus FAQ on our website.