Posted by: Rachel E. Towers | Comments (1)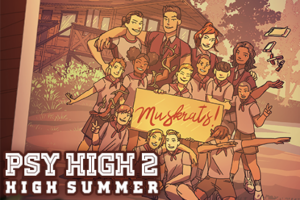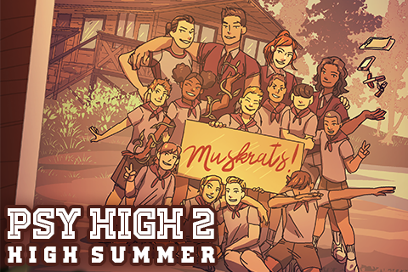 We're proud to announce that Psy High 2: High Summer, the latest in our popular "Choice of Games" line of multiple-choice interactive-fiction games, is now available for Steam, Android, and on iOS in the Choice of Games Omnibus app. It's 35% off until August 22nd!
What if summer could last forever? With your psychic powers and a little time magic, it can!
Psy High 2: High Summer is a 270,000 interactive teen supernatural mystery novel by Rebecca Slitt, and the sequel to her 2014 smash hit, Psy High. It's entirely text-based, without graphics or sound effects, and fueled by the vast, unstoppable power of your imagination.
One year after saving Kingsport High at the junior prom, you've graduated, and you're working as a counselor at a sleepaway camp before heading off to college. Your power to read minds certainly comes in handy when you're in charge of a cabin full of nine- and ten-year-olds! You're responsible for taking care of them and teaching them everything you know. But you're also enjoying a summer of freedom: you're away from your parents and on your own.
Camp Cedarcrest has its share of mysteries. Why do the people in the camp's photos look like they never age? Why is the groundskeeper always lurking on the edges of the camp? Why can't your friends remember what happened last summer? And what about the ghost stories? Generations of campers tell stories about seeing "the White Lady" floating through the woods.
All your friends from Kingsport High (and their powers) are just a text away: you can always look to your best friend for support, ask the editor of the school newspaper to help with research, or sneak a date with your hometown sweetheart.
But in order to make it through the summer, you'll have to find the truth about Camp Cedarcrest. And when you discover a powerful source of time magic, you also learn that it comes with a high price. How far are you willing to go to preserve or destroy it?
• Play as male, female, or nonbinary; gay, straight, or bi.
• Find summer love with your co-counselor or a mysterious stranger; or deepen your relationship with your high school sweetheart.
• Sing songs around the campfire, eat s'mores, make friendships that will last forever.
• Learn magic from a powerful mentor, and teach magic to a new generation.
• Earn your campers' love – or just ignore them and have your own fun.
• Win Colorwars!
• Save Camp Cedarcrest – or shut it down for good
• Explore a secretive society and its powerful magic.
• Be a good influence on your campers, or teach them to be troublemakers, just like you.
We hope you enjoy playing Psy High 2: High Summer. We encourage you to tell your friends about it, and recommend the game on Facebook, Twitter, Tumblr, and other sites. Don't forget: our initial download rate determines our ranking on the App Store. The more times you download in the first week, the better our games will rank.