Posted by: Mary Duffy | Comments (0)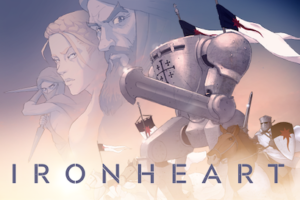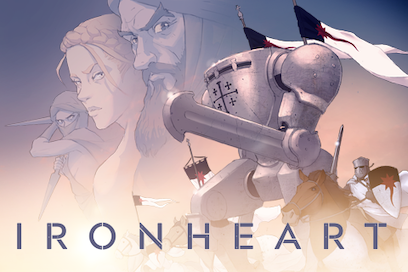 We're proud to announce that Ironheart, the latest in our popular "Choice of Games" line of multiple-choice interactive-fiction games, is now available for Steam, Android, and on iOS in the Choice of Games Omnibus app.
It's 33% off until March 5th!
Pilot and customize a giant iron war mech in this alternate medieval history! In 1182 AD, the Papacy, the Caliphate, and the Mongols are at war, and they all have mechs–hulking war robots, powered by energy from mysterious "skystone" meteorites.
Ironheart is a 250,000-word interactive novel by Lee Williams. It's entirely text-based, without graphics or sound effects, and fueled by the vast, unstoppable power of your imagination.
Our story begins in the far future, on a space mission to intercept a comet that can open wormholes through space and time. When your ship and the crew are sucked in and thrown backward through time, you awake from cryogenic suspension in 1182–at the height of the Third Crusade.
Trapped in the past, you must choose sides in the mech war between Saladin's Caliphate, the Catholic Papacy, and Genghis Khan's Mongolian Golden Horde.
Will you search doggedly for the rest of your crew or focus your energies on helping one of the factions in the war that rages around you? Do you seek to unite a divided land? Or use your advanced knowledge to gain wealth and power for yourself?
Along the way, you may meet historical figures such as Saladin, fight off attacks from the notorious order of Assassins and the secretive Knights Templar, or even take part in a grand tournament of mechs!
• Play as male, female or non-binary; gay, straight, bi or asexual.
• Pilot a giant medieval war machine! Choose how to equip, customize and decorate your machine.
• Take sides in the Third Crusade as a knight or emir. Rise through the ranks of your chosen faction or strike out alone.
• Hone your ability in a wide range of skills including warfare, diplomacy, medicine and engineering.
• Manage your own fiefdom. Decide how to govern, what to build and who to recruit.
• Entangle yourself with a wide supporting cast of characters, from fools and bandits to priests and princesses.
• Seek revenge, strive to build a better world or just live it up in the 12th century!
What new future will you forge now that the old one is gone?
We hope you enjoy playing Ironheart. We encourage you to tell your friends about it, and recommend the game on Facebook, Twitter, Tumblr, and other sites. Don't forget: our initial download rate determines our ranking on the App Store. The more times you download in the first week, the better our games will rank.