Posted by: Dan Fabulich | Comments (1)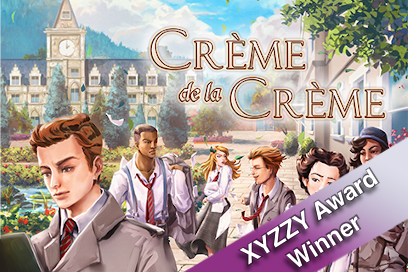 On Wednesday, Crème de la Crème by Hannah Powell-Smith won the annual XYZZY Awards, winning in the "Best Game," "Best Writing," and "Best Story" categories. ("Best Game" was a tie with Zozzled by Steph Cherrywell; "Best Story" was a tie with Turandot by Victor Gijsbers.)
To celebrate, we're putting Crème de la Crème on sale! It's 30% off until October 9 on Steam, iOS, Android, and on our website.
The XYZZY Awards celebrate the best interactive fiction of the previous year, and is decided by popular vote among the interactive fiction community. We're extremely grateful to the entire community for this extraordinary recognition. This is a great honor for Hannah Powell-Smith and everyone who worked on the game, including managing editor Abigail C. Trevor, artist Paola Tuazon, and copy editor Kris Ligman, as well as the dozens of people who helped with beta testing.
Speaking personally, I have always dreamed of one of our games winning the Best Game XYZZY Award, ever since we launched Choice of Games back in 2010. Creatures Such as We won the 2014 XYZZY Award for Best NPCs, and there was the, uh, "special recognition" award for Zombie Exodus in 2011, when we almost flooded the ballot box.
Crème de la Crème has earned the highest honor from the interactive fiction community, and we are so, so, grateful for that.