Posted by: Dan Fabulich | Comments (0)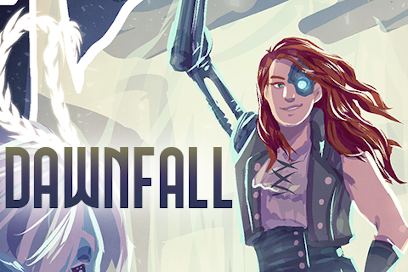 We're proud to announce that a new special set of Dawnfall "Bonus Stories" are now available for iOS and Android in our "Heart's Choice" app. These new stories are a special non-interactive set of short pieces in the world of the game, and are for sale for $0.99!
Soar through space and get back into the rhythm of the universe in these all-new prequel stories for Dawnfall by RoAnna Sylver! With five non-interactive short stories, totaling over 25,000 words, you'll be able to spend lots of time revisiting this dazzling universe. Journey between distant planets, and see the stunning events that joined your favorite characters' destinies and turned them into the people that you fell in love with.
In "Welcome to Eclipse," Averis tries to prove himself in his very first Navigation Circle – which includes the prickly Vyranix – and encounters alien worlds and a mysterious spacecraft that is definitely more than it seems.
Superstar Zenith is at the top of xir career when a power outage halts a concert and painful reminders of xir past start to surface. What will Zenith do with the memories that make xir feel "Real"?
It's "Aeon's First Day" as Administrator – which means that when one strange phenomenon after another affects Zephyria, she's the one who needs to deal with them.
Devoted friends Rune and Gwen will support each other through everything, whether it's joyful experiments to see how far their mystical powers will take them, or just finding "A Fair Trade" in a market on Zephyria.
As a Starless Acolyte, Oz has dedicated himself to the neutral guardianship of others' memories – but he will learn that some things among the "Stars" are so wondrous that even he cannot hold himself apart from them.
Since 2009, the team behind Choice of Games has created high-quality interactive novels in all genres. Now, our new Heart's Choice label puts romance at the center of the story, and you at the center of the romance. Heart's Choice games contain no graphics or sound effects, so we can focus on the story. Every game is filled with vivid, fully-developed characters and complex narratives that respond to your choices.
How will you find your happily ever after?