Posted by: Mary Duffy | Comments (0)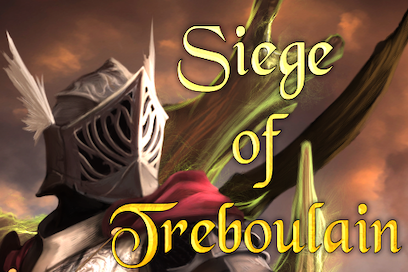 We're proud to announce that Siege of Treboulain the latest in our popular "Choice of Games" line of multiple-choice interactive-fiction games, is now available for Steam, Android, and on iOS in the "Choice of Games" app.

It's 33% off until April 21st!
Defend your magical city from an invading army! Use swords, spells, and strategy to save your people, lead them to glory, and build a legacy for the ages.
Siege of Treboulain is a 280,000-word interactive epic fantasy novel by Jed Herne. It's entirely text-based, without graphics or sound effects, and fueled by the vast, unstoppable power of your imagination.
Treboulain rests on the power of arborturgy, the magic that governs plants and all growing things. With the recent death of your mother, the Queen, you now sit on the Throne of Thorns, the nightmarish chair of royalty that extracts blood from whoever dares to sit upon it.
When a ruthless army of horse warriors besieges the towering walls of Treboulain, will you take to the walls yourself, inspiring the soldiers with your own martial might and stirring speeches? Will you command the defense from a distance, using your sharp tactical mind? Or will you draw upon the vast powers of nature itself, strangling your enemies with barbed vines?
Should you fill the moat with traps, train elite magicians, or recruit mercenaries for a surprise attack? How will you manage your dwindling resources? And what will you do when deadly conspiracies begin to come to light, threatening to shake your reign–and your city–to its very core?
Play as male, female, or non-binary; gay, straight, bi, or asexual.
Choose from three distinct backstories – magician, warrior, or scholar – and lend your skills to the defense of your city.
Command soldiers, plan tactics, and fight in everything from one-on-one duels to massive, history-shaking battles.
Wield the magic of plants through the art of arborturgy.
Manage the city's politics, balancing the conflicting needs of priests, merchants, and commoners against those of the military.
Uncover the secrets of the past through flashbacks to learn more about your city and your foe.
Find love or friendship with a brave warrior, a wise priestess, a cunning merchant, or a talented artist.
Let the legends say that this was Treboulain's bravest hour!

We hope you enjoy playing Siege of Treboulain. We encourage you to tell your friends about it, and recommend the game on Facebook, Twitter, Tumblr, and other sites. Don't forget: our initial download rate determines our ranking on the App Store. The more times you download in the first week, the better our games will rank.