Posted by: Mary Duffy | Comments (0)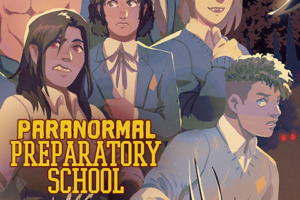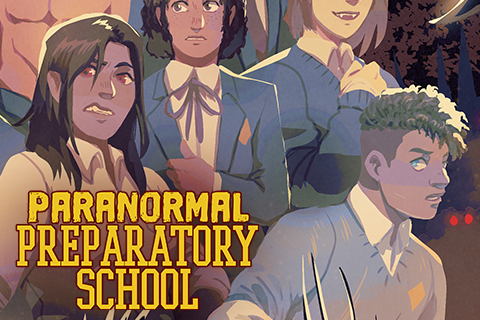 We're proud to announce that Paranormal Preparatory School, the latest in our popular "Choice of Games" line of multiple-choice interactive-fiction games, is now available for Steam, Android, and on iOS in the "Choice of Games" app. It's 33% off until August 18th!
This boarding school for supernaturals isn't hell, but it is on top of it! Can you make peace between the vampire and werewolf students, close the portal to hell, and save the world?
Paranormal Preparatory School is a 340,000-word interactive comedic dark fantasy novel by David Spain. It's entirely text-based, without graphics or sound effects, and fueled by the vast, unstoppable power of your imagination.
You're the only mortal human student at Cavalcade Academy, a school for supernatural beings. Zombies, werewolves, vampires, and more live and study within its ivy-clad walls. Centuries of hatred between vampires and werewolves have led to deep divides between the two species, and this school is the latest battleground. Your eldritch magic powers will be essential to earn the respect of your peers.
With the opening of the elite St. Mary's Academy next door–a private school full of pampered, privileged mortal humans–your fellow supernatural students will face their first interaction with humanity. Your school's reputation is at stake, to say nothing of what the wealthy upper-class St. Mary's students will think of their paranormal neighbors!
And now, as a portal to hell opens beneath Cavalcade Academy, you'll need to ally with vampires, werewolves, humans, a ghost, and a cyborg zombie to close it. Make the wrong decisions, and it could mean the end of you, your classmates, and perhaps even the entire world.
Oh, and don't forget to study for your math exam!
• Play as male, female, or nonbinary; gay, straight, bi, asexual, or poly
• Choose a side in a centuries–old feud: ally with the vampire clan or werewolf pack; or try to heal the rift between them.
• Save the world from the encroaching flames of hell that rise through the portal near your school.
• Help your classmates promote undead rights–or flee back to the mortal realm.
• Infiltrate the elite neighboring school to discover the origin of your frightening visions.
• Accept a vampire's kiss, return a werewolf's passion, or transcend the boundaries of death to love a zombie.
It's the end of the world. Don't be late for class!
We hope you enjoy playing Paranormal Preparatory School. We encourage you to tell your friends about it, and recommend the game on Facebook, Twitter, Tumblr, and other sites. Don't forget: our initial download rate determines our ranking on the App Store. The more times you download in the first week, the better our games will rank.