Posted by: Jason Stevan Hill | Comments (0)
Hosted Games has a new game for you to play!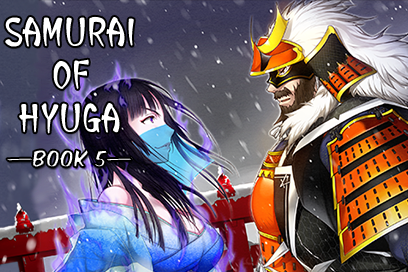 Retake your role as the ronin, and bring the wrath of hell (and the Jigoku) upon samurai and spirits alike! It's 37% off until August 11th!

"Samurai of Hyuga Book 5" is a thrilling 480,000-word interactive fantasy novel written by Devon Connell. It's entirely text-based—without graphics or sound effects—and fueled by the vast, unstoppable power of your imagination.

With a broken heart, mind, and body, the odds have never been steeper against our hero. Enemies abound…but so do allies, too. With stakes higher than ever before, you'll need more than just a good swordarm to see you through.

You once claimed to be a bodyguard to a magical brat in a red silk kimono. Its past time you did your job: just don't expect it to be easy in the fifth book of this epic series!

Reunite against enemies and allies both old and new!
Infiltrate an enemy fortress and investigate a foreign cult!
Select your face from over 20 beautiful character portraits!
If you need to catch up on the Samurai of Hyuga saga, you can buy the whole series as a Steam bundle!
Devon developed this game using ChoiceScript, a simple programming language for writing multiple-choice interactive novels like these. Writing games with ChoiceScript is easy and fun, even for authors with no programming experience. Write your own game and Hosted Games will publish it for you, giving you a share of the revenue your game produces.