Posted by: Jason Stevan Hill | Comments (0)
Hosted Games has a new game for you to play!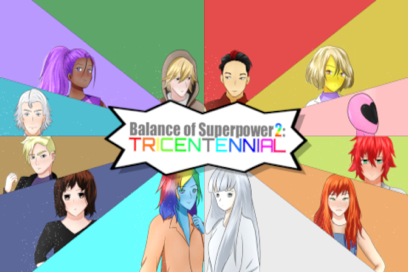 Manage a team of aspiring heroes while being an aspiring hero yourself and compete to graduate from Sage Academy as a full-fledged crime-fighter! Attend classes, fight supervillains, go on wacky adventures and, of course, befriend or romance one of your fellow students!

Oh, but do make sure the world does not end, okay?

This sequel to 2020's Balance of Superpower is 37% off until January 12th!

Balance of Superpowers 2: Tricentennial is a 730,000-word interactive superhero romance novel by Rustem Khafizov. It is entirely text-based, without graphics or sound effects, and fueled by the vast, unstoppable power of your imagination!

You can continue Rio's story or create your own colorful hero!
Play as male, female, or non-binary.
20 romanceable characters! 12 options for Rio and 9 for the new character! Will you romance a mysterious vigilante or a supervillain on parole? Will you date a humanoid dinosaur or a girl who speaks in rhyme?
Each love interest offers their own unique adventure and each of their quests varies in tone from light-hearted and campy to dark and disturbing!
Over 50 colorful character portraits drawn by amazing artists!
Customize your character's appearance, personality, and heroic outfit!
12 thrilling chapters which differ immensely depending on the protagonist chosen!
Many heroes to meet, many villains to fight, and many places to see!
Compete for the ultimate right to become a crime-fighting hero!
You can also abandon the heroic path altogether and choose to become an
anti-hero or even a supervillain!

Will you save the world or doom it forever?
Rustem developed this game using ChoiceScript, a simple programming language for writing multiple-choice interactive novels like these. Writing games with ChoiceScript is easy and fun, even for authors with no programming experience. Write your own game and Hosted Games will publish it for you, giving you a share of the revenue your game produces.