Posted by: Jason Stevan Hill | Comments (2)
Hosted Games has a new game for you to play!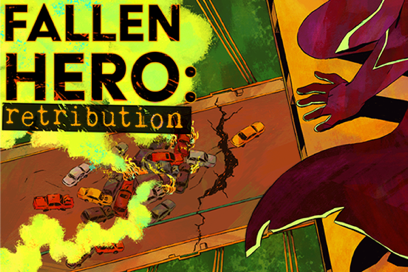 So you're a villain now? Let's see if you survive the experience.

Fallen Hero: Retribution is a 1.45-million word interactive superhero novel by Malin Rydén, where your choices guide the story. It's entirely text-based—without graphics or sound effects—and fueled by the vast, unstoppable power of your imagination.

Be the telepathic villain you always wanted to be and embark on a career as a thief, mob boss, hero hunter, or anarchist in your own bespoke base. Will you start to regret your actions, or double down and commit more heinous crimes? No matter your choice, your old hero friends in the Rangers will be out to stop your criminal rampage. To them, the fact that you are on the wrong side of the law is more important than the crimes you commit, no matter your motivation. Luckily you can remain one step ahead of them thanks to your telepathic powers, but it would be best to not push your luck and get too close. Or reveal your secrets.

Explore relationships as straight, gay, bisexual, or aromantic.
Pick your brand of villainy: become a thief, hunt heroes, run a mob or dabble in politics.
Delve deeper into the underworld and match wits with the kingpin of Los Diablos.
Set up your base in the rat-infested sewers, buy a luxury lair, or anything in between.
Deepen your previous two relationships or explore one or more of the three new ones; the young hero idolizing your past, your most dangerous opponent, or the Marshal himself.
Juggle two bodies and three identities, play as male, female or genderqueer.
Explore your feelings about gender and your body.

Hopefully, your past stays buried. If not, get a shovel.
Malin developed this game using ChoiceScript, a simple programming language for writing multiple-choice interactive novels like these. Writing games with ChoiceScript is easy and fun, even for authors with no programming experience. Write your own game and Hosted Games will publish it for you, giving you a share of the revenue your game produces.