Posted by: Mary Duffy | Comments (0)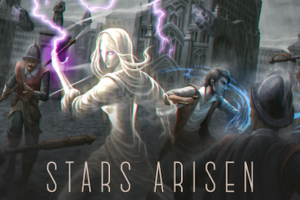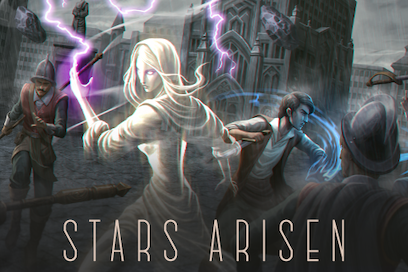 We're proud to announce that Stars Arisen, the latest in our popular "Choice of Games" line of multiple-choice interactive-fiction games, is now available for Steam, Android, and on iOS in the "Choice of Games" app.
It's 33% off until March 22nd!
Reclaim your mother's throne with the mighty power of the skies! Bring down lightning on your foes, climb an endless tower, and call the ghosts of ages past to your aid. But will your sorcery save the city, or tear it apart?
Stars Arisen is a one-million-word interactive epic fantasy novel by Abigail C. Trevor, author of Heroes of Myth. It's entirely text-based, without graphics or sound effects, and fueled by the vast, unstoppable power of your imagination.
After a four-hundred-year reign over the city-state Kelestri, your mother, the immortal and all-powerful Sorceress of the Skies, was overthrown in a violent revolution. Called a tyrant and forced into exile, she was believed dead by all. Only you, her secret child and chosen heir, know the truth. Now, as the Sorceress's life begins to fade, she has given you a task: steal back the fallen stars that granted her power and reclaim her crown.
With the last vestiges of your mother's magic in your hands, you descend to Kelestri to find a city on the edge of change. Factions feud over its governance, riots fill the streets, and would-be sorcerers grasp at the remnants of magic in the city's secret corners. Seeing the rising new world, do you still intend to fulfill your mother's ancient vision? Will you restore the Sorceress's might, shatter it for good, or claim it for yourself?
Play as male, female, or non-binary; gay, straight, bisexual, monogamous, polyamorous, asexual, and/or aromantic
Wield the power of the stars to call down storms, shape the earth, ride the wind, raise the dead – or even to become immortal!
Romance a radical orator, a savvy journalist, an outlaw mage, the heir to the rebellion, or the ghost of a master thief
Use your political acumen to pit feuding factions against each other, or guide them to peace
Uncover the stories that your mother wanted to bury: the secrets of her power, your ancestry, and the nature of magic itself
Reclaim your mother's place as ruler of Kelestri, strengthen the revolutionary government, or seize the throne for yourself!
With the magic of fallen stars in your hands, how high will you rise?
We hope you enjoy playing Stars Arisen. We encourage you to tell your friends about it, and recommend the game on Facebook, Twitter, Tumblr, and other sites. Don't forget: our initial download rate determines our ranking on the App Store. The more times you download in the first week, the better our games will rank.