Posted by: K L | Comments (39)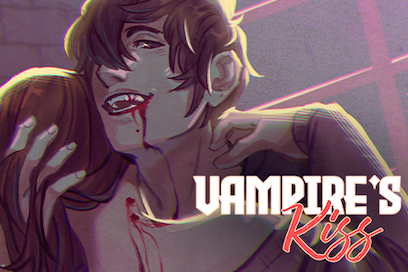 Unleash your lust and your thirst in a battle for the soul of London! Will passion lead you back to humanity, or will you embrace the night as a vampire?
Vampire's Kiss is a 170,000-word interactive erotic vampire novel by Dash Casey. It's entirely text-based, without graphics or sound effects, and fuelled by the vast, unstoppable power of your imagination.
Vampire's Kiss releases this Thursday, October 19th. You can play the first three chapters for free today.
In life, you were the guardian of a priceless artifact, the Cross of Aguirre. Now you have been murdered and made a vampire; the artifact has been stolen, and you are at the center of a web of bloody conspiracies.
Navigate a perilous web of secrets as you discover the hidden world of London after dark, staging daring heists and bloody battles across the city's iconic landscape. As a plot centuries in the making unfolds, choose sides in the battle for control of London's vampires, and embrace the night that has been thrust upon you…or, chase rumors of a way to restore true life to the undead, and hold out hope that you might see the sun once more.