Posted by: Dan Fabulich | Comments (6)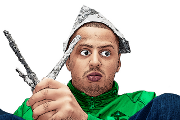 Choice of Games is pleased to announce the release of Paranoia, by Kie Brooks! Play it on the web, or download the iPhone version or the Android version.
When you think your doctor may be trying to kill you, life gets complicated. Survive this multiple choice game, if you can.
We hope you enjoy playing "Paranoia" and we encourage you to play it, tell your friends, and to recommend it on StumbleUpon, Facebook, Twitter, and other sites. Don't forget: our initial download rate determines our App Store ranking. Basically, the more times you download in the first week, the better "Paranoia" will rank.
Finally, a shameless plug: "Paranoia" is the fourth game available as part of our hosted games plan. If you'd like to write a multiple-choice game of your own, give it a try! If you host our game with us, we'll share 75% of the revenue your game produces.