Posted by: Dan Fabulich | Comments (63)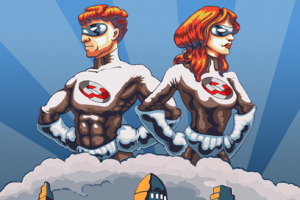 Today, we're proud to announce that Heroes Rise: The Prodigy, the latest in our popular line of multiple-choice interactive-fiction games, is now available for iOS, Kindle and Android. This is also our first game available for download on Windows, OS X, and Linux via the Chrome Web Store.
In "Heroes Rise," Powered heroes have become the ultimate celebrities, and you dream of joining the A-List–but to get there, you'll first have to take down evil Powered gangs, compete with deadly rivals, choose a worthy sidekick, team up with famous champions, and prove to all of Millennia City that you're a true hero.
"The game is completely text-based," said Zachary Sergi, author of "Heroes Rise." "There's no graphics, no music; nothing but 100,000 words and your imagination."
At each step, "Heroes Rise" offers a multiple-choice question, putting you in control of the interactive story.
For example, when surrounded by dozens of criminals who are battling for control of the "Gravitas" artifact, which would you choose?
Jump in right away and stop the killing. It doesn't matter who gets the Gravitas–saving lives is more important than anything.
Your only concern here is the Gravitas. Make a grab for it and go!
Wait for them all to kill each other off, then take the Gravitas by surprise from whoever is left standing.
Stay put and wait for the police to arrive–this is way too much for you and you know it.
Will you play as male or female? Gay or straight? Crusade for justice, or gun for money?
How high will you rise?
This Is Not a Hosted Game
In the past, Choice of Games has distinguished between two types of releases: our official "Choice of" games (Dragon, Broadsides, Romance, Vampire, Zombies) and unofficial "hosted games" written by third parties.
Today, we're trying something new: Heroes Rise is a full-fledged "Choice of" game, written by a professional author outside the "Choice of Games" partnership.
Furthermore, unlike our other games, we're not offering the entirety of "Heroes Rise" for free on our website. We're offering the first 20,000 words of the game for free (out of 100,000 total); to play the rest, you'll have to purchase the game.
That's why we've chosen to make "Heroes Rise" available on the Chrome Web Store. Anyone on Windows, OS X, or Linux who doesn't have an iOS, Android, or Kindle device can download Google Chrome for free to purchase our game. When you buy Heroes Rise on the Chrome Web Store, the game will download to your computer, where it will be available to play offline as long as you like.
We hope you enjoy playing Heroes Rise: The Prodigy. We encourage you to tell your friends about it, and recommend the game on StumbleUpon, Facebook, Twitter, and other sites. Don't forget: our initial download rate determines our ranking on the App Store. Basically, the more times you download in the first week, the better Heroes Rise will rank.
EDIT 7/18: The iOS app is now available!