Posted by: Dan Fabulich | Comments (9)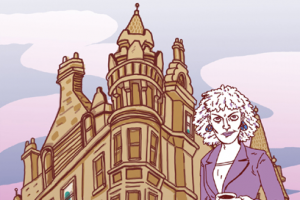 Mark your calendars! "Eerie Estate Agent," the newest game under our "Choice of Games" label, will be released on Friday, August 31. Download it on Friday from the iOS App Store, the Android Google Play Store, or the Chrome Web Store. A free trial version will be available on our website.
In "Eerie Estate Agent," it's your job to rent out a haunted house before your tyrannical boss has you fired. How will you screw over your tenants? Will you ignore inconvenient supernatural phenomena, or use them to drum up publicity? How will you deal with ghost hunters, squatters, and celebrity tenants? Will you emerge as the top agent? Stage an office coup? Or will you become a permanent resident of 57 Crowther Terrace?
If you'd like to be reminded when the game is available, subscribe to our blog on the right-hand side of this page, or follow us on Twitter, Facebook, or Google+. We'll run one more blog post on Friday to post download links.
In the meantime, we're running a countdown on Twitter/Facebook/G+, featuring quotes from the game.
Tuesday: "That house. It defies the axioms of Euclidean geometry."
Wednesday: "You each recognise that the other is used to screwing people over for a living."
Thursday: "One of the golden rules of real estate is 'never grapple an armed client.'"