Posted by: Dan Fabulich | Comments (5)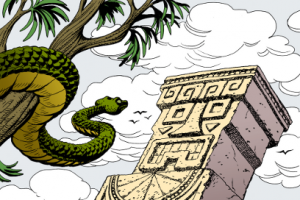 We're proud to announce that To the City of the Clouds, the latest in our popular "Choice of Games" line of multiple-choice interactive-fiction games, is now available for iOS, Android, and, via the Chrome Web Store, Windows, OS X, and Linux.
Search for the lost Incan city known as La Ciudad de las Nubes in the mountains of Colombia. Your fledgling archaeologist will battle venomous pit vipers, tropical diseases, and the FARC guerrilla army to secure fame, fortune, and tenure at a prestigious university. Alcohol, lustful young students, and Incan spirits delight and bedevil you along the way.
"To the City of the Clouds" is a thrilling interactive adventure novel where your choices determine how the story proceeds. The game is entirely text-based–without graphics or sound effects–but powered by the vast, unstoppable power of your imagination.
Choose your persona, your sexual orientation, and your propensity to wear khaki native huipiles…then let the adventure begin!
We hope you enjoy playing To the City of the Clouds. We encourage you to tell your friends about it, and recommend the game on StumbleUpon, Facebook, Twitter, and other sites. Don't forget: our initial download rate determines our ranking on the App Store. Basically, the more times you download in the first week, the better our games will rank.