Posted by: Dan Fabulich | Comments (6)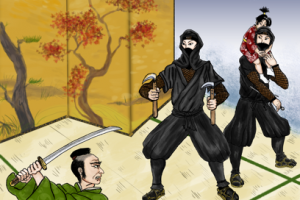 We're proud to announce that Choice of the Ninja, the latest in our popular "Choice of Games" line of multiple-choice interactive-fiction games, is now available for iOS, Android and, via the Chrome Web Store, Windows, OS X, and Linux.
In the high-stakes game of politics between two feudal lords, you are a ninja village's chosen warrior. Earn glory for your clan as you battle your enemies, becoming a master of magic, combat, and stealth.
Choice of the Ninja is an epic interactive fantasy novel by Katherine Buffington, where your choices determine how the story proceeds. The game is entirely text-based–without graphics or sound effects–but driven by the vast, unstoppable power of your imagination.
Will you bring peace to your village, or return home in shame? Will you serve your daimyo obediently, or defy his orders for the greater good? Or will you use your powers of invisibility for personal gain? The choice is yours.
We hope you enjoy playing Choice of the Ninja. We encourage you to tell your friends about it, and recommend the game on StumbleUpon, Facebook, Twitter, and other sites. Don't forget: our initial download rate determines our ranking on the App Store. Basically, the more times you download in the first week, the better our games will rank.