Posted by: Dan Fabulich | Comments (1)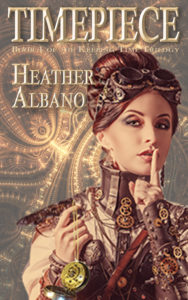 Heather Albano, author of Choice of Broadsides, Affairs of the Court: Choice of Romance, Choice of Zombies, and A Study in Steampunk: Choice by Gaslight, is running a Kickstarter for her "Keeping Time" trilogy of non-interactive steampunk time-travel novels. They tell the story of a girl, a pocket watch, Frankenstein's monster, the Battle of Waterloo, and giant clockwork robots taking over London. Backers will get access to the final book in the trilogy, Timebound, as soon as it's finished.
Heather is a great friend of Choice of Games and we're all huge fans of her work. The Kickstarter fully funded just six hours after it launched. Additional support will fund the development of more of Heather's extraordinary writing. Support this Kickstarter today! Even if you can't afford to back it, please share it with friends.