Posted by: Rachel E. Towers | Comments (0)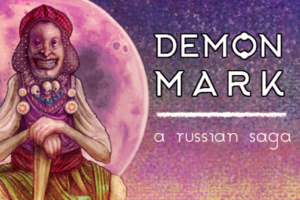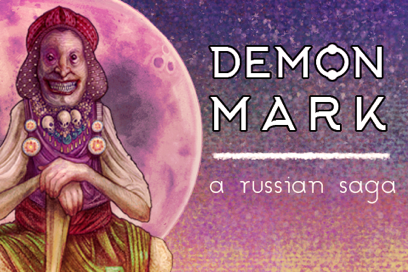 We're proud to announce that Demon Mark: A Russian Saga, the latest in our popular "Choice of Games" line of multiple-choice interactive-fiction games, is now available for Steam, iOS, and Android. It's 16% off until June 7th!
Call upon the power of your cursed Demon Mark to battle dragons, witches, and an undead army! Beware: each time you use it, the Mark grows stronger.
Demon Mark: A Russian Saga is a 200,000-word interactive fantasy novel by Vlad Barash and Lorraine Fryer, steeped in Russian folklore. It's entirely text-based, without graphics or sound effects, and fueled by the vast, unstoppable power of your imagination.
Once upon a time, in the land of Rus, you lived a simple life as the firstborn child of peasant farmers. But when the evil demon Uhin places the Demon Mark upon you and kidnaps your parents' second child, you'll set out on an epic adventure to reunite your family.
On your journey through Russian folklore, you'll confront the treacherous witch Baba Yaga, the seven-headed dragon Zmey Gorynych, the mythic giant Svyatogor, and the villainous Koschei the Deathless with his army of corpses.
Team up with the bogatyrs, the heroes of Russian folk tales: strong Ilya Muromets, pious Alyosha Popovich, and wise Marya Morevna. You and your talking animal companion will journey all the way to the Tsar and Tsaritsa's court in Kiev for assistance on your quest. Will the bards of Kiev sing the tale of your heroic victory, or your tragic sacrifice?
The Demon Mark is whispering to you. Do you hear it? Should you listen when it calls your name?
• Play as male, female, or non-binary
• Meet the monsters and marvels of Russian folk tales, from Kiev to Koschei's Fortress.
• Convince the Tsar and Tsaritsa to help you hunt down the demon who marked you
• Court the Grey Wolf, a mysterious creature who can assist you on your journey
• Defeat the seven-headed dragon Zmey Gorynych
• Listen to the stories of Svyatogor…and stay awake!
• Complete Baba Yaga's impossible tasks
• Escape the dungeons of Koschei the Deathless
• Battle the demon Uhin and reunite your family
• Embrace the power of the Demon Mark and become a demon yourself
We hope you enjoy playing Demon Mark: A Russian Saga. We encourage you to tell your friends about it, and recommend the game on StumbleUpon, Facebook, Twitter, and other sites. Don't forget: our initial download rate determines our ranking on the App Store. The more times you download in the first week, the better our games will rank.