Posted by: Mary Duffy | Comments (1)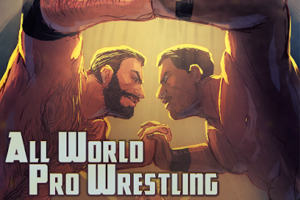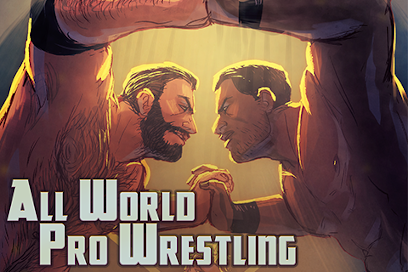 You're a trainee in the male Erotic Professional Wrestling Federation… and you're reader to take on all comers. Training includes sparring, matches in the ring against the other trainees, tag team competitions, a battle royal, antics in the showers and locker room, and even ringside seats at the Championship Match.
All World Pro Wrestling is a 310,000-word interactive erotic gay novel by David Monster and Jim Dattilo, one of the first set of games releasing with the launch of Heart's Choice. I sat down with the authors to talk about writing interactive romance. Heart's Choice games release December 2nd.
All World Pro Wrestling is part of the first launch of Heart's Choice games and it's the first gender and sexuality locked game we're releasing for gay men. Jim you've written non-genderlocked games as well. Can you talk a little about the difference?
JIM:
Writing a gender and sexuality locked game certainly has some advantages. The most obvious first advantage is that we don't have to code gender pronouns, which saves time in coding and editing.
The next major advantage is in creating the characters. As a writer of choice games you want to give players lots of options. As a writer of fiction you want to give the reader highly specific characters. So in a game like Zombie Exodus, I need to have a huge variety of characters which are all open to various sexualities. Hopefully every player can find someone they are interested in or identify with. It is a phenomenal amount of work. However in All World Pro Wrestling, we can focus on a smaller set of characters, making them highly detailed.
Wrestling is also having a little cultural moment right now, it seems. What informed your decision to write wrestling fetish interactive fiction?
DAVID:
There's currently a great climate in independent pro wrestling. They seem to be embracing diversity, especially LGBT, in a way that major federations are not. The independents are a lot more entertaining because they have a great sense of humor, especially guys like Joey Ryan, RJ Skinner, Brian Cage, The Golden Lovers, and Jervis Cottonbelly. It's a lot more appealing to me, because through the humor, they are acknowledging the homoerotic aspect of the sport in a way that's exciting, amusing, and not derogatory.
After I published my first book, Service, people contacted me to tell me they loved it but wanted more sex and erotica. So, I wrote a gay erotic pro wrestling novel. It's such a natural, because beyond being a sport, pro wrestling is really a fetish, and along with the homoeroticism, there's a brotherhood that naturally lends itself to man-on-man romance.
JIM:
I have a lot of gay male fans through my other writing and they provide some of the best feedback on romance. There are so few choice games or forms of interactive fiction focused on LGBT characters that players are more willing to voice their support and criticism. As game designers we need both forms of feedback.
When David and I decided to collaborate, we thought to convert his gay male erotica novel into a choice driven story. His novel already had a rich setting, plot, and set of characters. This is why we wanted to pitch it.
Are you fans of regular wrestling?
DAVID:
Yes, I watch all different kinds of wrestling, mainly on YouTube. I like vintage pro wrestling, like AWA and GWF from the 50s to the 80s. When it comes to current wrestling, I'm a big fan of the independents. They've evolved as much more entertaining than WWE, currently the largest federation. I can't watch WWE anymore. I'll tune in every ten years or so, and it's always the same storylines, same choreography. The guys are great-looking, but I need more than that.
I'm also a fan of Collegiate Wrestling. I wish I would have trained in amateur wrestling and grappling. All the great MMA fighters say it's a necessary foundation for their sport.
JIM:
As a kid I was a big fan of wrestling, back in the early days of Hulk Hogan and Randy Savage. I stopped watching at the time the WWF became the WWE, because as David said, the storylines became recycled. I don't fault anyone for enjoying it now. Sometimes I'll see a commercial for a large event and it will pique my interest.
This game is full of different romanceable characters. Tell me about some of them and which ones you enjoyed writing most.
DAVID:
To tell you the truth, I love them all. They all have different attributes that make them special. Rory is an extremely cute blond boy. He's sweet and kind, but he has the heart of a fighter. He always wants to win but wants all his friends to win, too. Bravon's a real man, the best athlete in the facility, and a good friend to have. He's a handsome muscle stud with the most extreme abs. Mandrew's a cute jock boy and the class clown. He's funny and always a good time, although he's straight (or at least he says he is). Marcos is a big, hairy bear, and a total pushover. If you're a power top, he's your guy. He's truly up for almost anything.
Finally there's Stan. He's a short little mountain of muscles, and, by far, the toughest guy in the training facility. He's built is solidly as a wall of concrete which also represents the walls he built around himself to hide his vulnerabilities. He's a loyal warrior, who is devoted to training but always searching for love.
Beyond these characters, you can have flings with lots of other characters.
Could you talk a little about your collaborative writing process?
DAVID:
It was a learning process for me. I've never written a multiple choice game before, and Jim had already done three. He was my teacher and mentor, and taught me things about making a game you can't learn from a tutorial. Jim's guidance made me a much better writer.
JIM:
David was the primary writer while I was the developer and coder. After writing a very extensive outline based on his book, we went through several rounds of drafts and edits until we came up with the shell of the game. David would write a chapter in a form of pseudocode, and I would take that document and convert it to ChoiceScript. Along the way we would talk about adding new content and deleting certain parts that weren't working. David was always willing to do rewrites or punch up some text if needed. Since this was really his subject matter, I had to lean on him for the majority of the content. And he never made me feel like I was working for him. We were always collaborative and equal.
And what's next for you guys? 
DAVID:
I released the book this game is based on, called Rowdy Armstrong 2 – Pro Wrestling Rookie. It's available on Amazon, and you can check out the website for pics of all the characters in the book: RowdyArmstrong.com
I hope Jim and I can work on the sequel to this game, very soon. He's so busy with Zombie Exodus. His fans are constantly demanding more of that story, because he has created a really cool world there.
I have another game, with accompanying book, I hope Choice of Games or Heart's Choice will host. It's a non-genderlocked fantasy story that will not involve wrestling.
I have a podcast, called Unimaginary Friendcast, and will continue to talk about this game on it. We have interviewed Jim twice, so search for that. It's worth a listen, for sure.
Here's my webpage, if you want to know more: DavidMonster.com
JIM:
I'm continuing to work on Zombie Exodus: Safe Haven, Part 3 primarily. I'm also currently working on a new title for Choice of Games. It's a secret project, and I hope to share some details on this game early next year.