Posted by: Mary Duffy | Comments (1)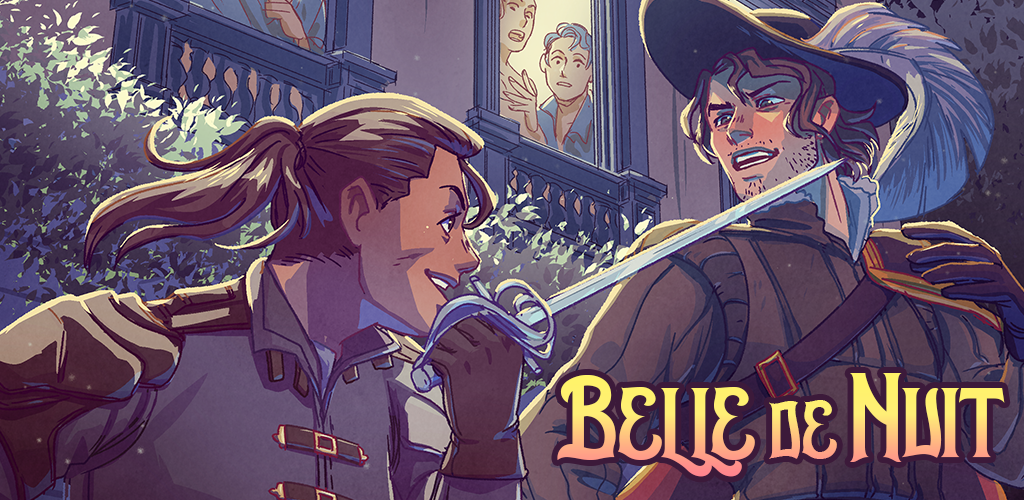 Win duels and hearts as a swordswoman at Paris's finest luxury brothel! Fight for the honor of ladies of the night in this game of swords and seductions. Belle-de-Nuit is a 107,000-word interactive romance novel by Rebecca Zahabi, author of Never Date Werewolves. I sat down with Rebecca to talk about the game's unique setting and subject. Belle-de-Nuit releases this Thursday, June 17th. You can play the first few chapters today!
This is your second game for our Heart's Choice line and Belle-de-Nuit couldn't be more different from Never Date Werewolves. Tell me about how your approach to the genre has evolved.
That's funny, because I would argue that they are actually quite similar: both have a central female MC, both focus on an aspect of women's lives which isn't often discussed in fiction (being a single mother, dealing with sex-work) and both, of course, are romances. But yes, you're right, the setting and the genre are very different.
I think the reason I changed setting is because I like to find new spaces I haven't yet explored in my writing. I find it hard to stick to the same story or genre, as I like to wander. I also felt a lot more confident with Belle-de-Nuit – I mastered ChoiceScript a lot more, I knew what players had liked/disliked in Never Date Werewolves, and I had a stronger sense of how to weave RO characters into the main thread of the story. So my approach to writing a Heart's Choice changed, hopefully for the best, because of what I'd learnt.
What is it that drew you to write about this period in French history?
When I started thinking about the game, I knew I wanted to write a swashbuckling story, with plenty of sword- and wordplay. I thought about stories I had read in the swashbuckling genre: The Three Musketeers, Cyrano de Bergerac, De Cape et de Crocs, etc. All these stories are tales I grew up with, and in my mind they're linked to flashy duelists making witty comments as they fight. They are all set in the 17th century, so that was the period I researched. I've actually set Belle-de-Nuit a bit after The Three Musketeers, around 1650. There is an interesting gap there, where Louis XIII has died, and Louis XIV is too young to rule, and his mother is Regent. There is a bit of a power-vacuum, and opportunities for a PC to be freer than in a more regulated period of history, which is always interesting to write about!
It's kind of an amazing and perhaps unfamiliar world that the PC inhabits. What part of writing that most appealed to you?
Often swashbuckling stories focus on a few men from the nobility, who can afford to roam and fight. Career options for working class women at the time were limited: being married and helping run the family business, being sent to a nunnery, or doing sex-work. I was interested in exploring how sex-work both set women apart, yet helped them gain independence and freedom. Because it was a form of freedom: they were self-organized and their work was legalized, which is interesting to think about considering the current debate as to whether to legalize sex-work to better protect women.
I also think it is an unusual, underused setting in fiction. Often the men of swashbuckling stories have women involved in the periphery of their lives, but they never take central stage. (When they do, it doesn't end well: look at poor Milady's fate after her brush against Dumas's musketeers!) I wanted a story that gave both women, and people who were not from the nobility, a chance to shine – and to fight duels whilst delivering witty lines!
One thing I appreciated about Belle-de-Nuit was the sex-positive feminist view it takes of sex work. Can you talk a little about that?
When writing Belle-de-Nuit, I knew I wanted to try to destigmatize sex-work and talk about women's pleasure. I wanted a story which explored that setting, not through the lens of the male gaze, but as a place run by women and which was a huge part of their lives.
In fiction, we have few positive representations of brothels from a female perspective. The only stories I can think of underline the abuse and economical violence which often accompanies sex work. While we do need stories which acknowledge and denounce the exploitation which often takes place, I think we are lacking sex-positive, destigmatizing narratives where sex-workers are more than their job; we lack stories that acknowledge that a free, consensual form of sex-work is something we as a society could be striving for. These stories are starting to appear, in Karen Memory by Elizabeth Bear, or Record of a Spaceborn Few by Becky Chambers, but they are far from numerous.
One of the beta-readers said this: "I love the plot it's bold and against the grain. This story brings lots of culturally taboo topics to the front stage. From prostitution, public sex, having children before getting married, men being vulnerable, and women's sexuality, and women fighting, this story breaks all boundaries." I was incredibly happy with this feedback, because it was exactly what I was trying to achieve.
You recently had a book out, as well. Tell me a little about it.
The Game Weavers came out in October 2020, with the indie press Zuntold. It's been a long, exciting adventure getting this first novel published! If I had to summarize the story in one line, I would say it is about LGBTQ+ representation in esports – if esports were magic.
In The Game Weavers, the national sport is a magic practice called Twine, in which players weave creatures through threads that emanate from their fingertips. The main character, Seojun, is a Korean Twine champion playing for the UK. The story starts when he is outed by the media after a one-night stand. With the help of his brother Minjun and Jack, the man he can't quite decide if he loves or not, Seo has to fight to get his life back on track whilst facing the biggest match of his career.
As you can see, like for Belle-de-Nuit, it's hard for me not to be thinking about representation and how fiction can help us tell better, more inclusive stories.
Where is your imagination leading you for your next creative endeavor, or maybe even your next Heart's Choice title?
With regards my novel-writing, I'm now working on a fantasy trilogy, which is scary for me, as it's my first time attempting a story that spans more than one volume. Once again, I can't seem to escape blending magic and political themes, thinking about representation and power structures in fiction and in life.
With regards to interactive fiction writing, I've had a lot of fun writing Belle-de-Nuit, and I've grown close to the characters. So, despite what I said above, I would be happy writing a bit more about the belles, and finding out where their journeys might lead them and the PC. If players enjoy the game – which I hope they do! – then I would love to write a sequel.