Posted by: Mary Duffy | Comments (0)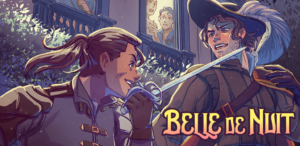 We're proud to announce that Belle-de-Nuit, the latest in our "Heart's Choice" line of multiple-choice interactive romance novels, is now available for iOS and Android in the "Heart's Choice" app. You can also download it on Steam, or enjoy it on our website. It's 25% off until Jun 24th!
Win duels and hearts as a swordswoman at the Belle-de-Nuit, Paris's finest luxury brothel! Fight for the honor of the ladies of the night in this game of swords and seductions.
Belle-de-Nuit is a 115,000-word interactive romance novel by Rebecca Zahabi, author of Never Date Werewolves. It's entirely text-based, without graphics or sound effects, and fueled by the vast, unstoppable power of your imagination.
The Belle-de-Nuit is yours to protect, and yours to love. Some of the courtesans have been your best friends for years, and maybe you have a childhood sweetheart whom you'd like to steal from her customers… There is also the shy bartender, with a heavy secret and liquor-scented lips. They have arrived in Paris without telling anyone where they came from, why they travelled this far, or why they always seem so nostalgic.
But Madame wants you to focus on securing the next big patron for the Belle-de-Nuit. Unfortunately, he has a duelist of his own, Sebastian–so frustratingly good at fencing, he threatens your reputation as the best duelist in Paris. You are burning to defeat him in a duel…but do you want to best him with the blade, or bed him?
Madame's house is filled with lovers. But which will be yours?
Play as female, gay, straight or bi.
Indulge in Parisian nightlife, where seduction and good wine, lies and kisses go hand in hand.
Choose a sweetheart – or get involved with more than one – between a rival duelist, a lady of the night and the shy bartender who pours your drinks.
Climb rooftops, duel in narrow Parisian streets, outwit your foes, cross-dress to fool and seduce, throw a rose to your chosen one – all in a day's work!
Win duels, role-play as a courtesan, outwit your foes – or fall for them!
Uncover secrets which are only whispered at dusk, on rooftops, looking over the beautiful Parisian skyline…
Protect the ladies of the night as they go about their evening, get involved with pouring drinks or playing card games with the clients – or more!
You'll fight for the honor of the Belle-de-Nuit brothel, be it with steel or soft lips.
We hope you enjoy playing Belle-de-Nuit. We encourage you to tell your friends about it, and recommend the game on Facebook, Twitter, Tumblr, and other sites. Don't forget: our initial download rate determines our ranking on the App Store. The more times you download in the first week, the better our games will rank.