Posted by: Mary Duffy | Comments (0)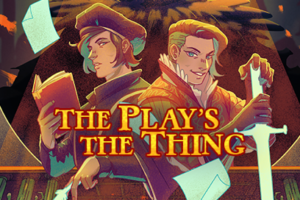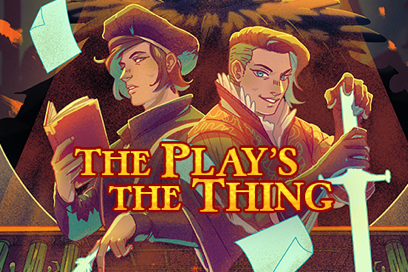 We're proud to announce that The Play's the Thing, the latest in our popular "Choice of Games" line of multiple-choice interactive-fiction games, is now available for Steam, Android, and on iOS in the "Choice of Games" app. It's 40% off until September 2nd!
Can you win fame, fortune, and romance as a playwright, before a deadly curse brings the curtain down for good?
The Play's the Thing is a 245,000-word interactive romantic fantasy novel by Jo Graham and Amy Griswold, best-selling authors of Stronghold: A Hero's Fate and The Eagle's Heir. It's entirely text-based, without graphics or sound effects, and fueled by the vast, unstoppable power of your imagination.
Become the official playwright at the Odeon, the most prestigious theater in Medaris. Here, high society gathers to gossip, frolic, and flirt. Dazzling special effects, enhanced by real magical enchantments, keep the audience in their seats. The plays you write have the power to manipulate public opinion, changing the course of history.
But as you're waiting for your first opening night, rumors begin flying. Deadly, shadowy creatures are stalking the city's streets. Mysterious accidents threaten your productions. It's a curse, people whisper—but only where the city's harsh ruler, the Raven, can't hear them. And to discover the roots of the curse, you'll have to dig deep into secrets that the city's nobles would prefer to stay safely buried.
The city's quarreling rulers have strong opinions about your theater, but they're also susceptible to its powers. Will you inspire them to save Medaris, or destroy it, as they destroy each other? Will you insinuate yourself into their hearts and minds? Will you expose their darkest secrets?
Will you write your way out of the tragedy that threatens your city, or call down the curse deliberately, carving your name in the annals of infamy?
• Play as male, female, or nonbinary; gay, straight, bisexual, aromantic, or asexual.
• Win popular fame, critical acclaim, or royal favor and avoid scandalous exile.
• Find love or lasting friendship with your actor buddy, the theater's acerbic director, a swashbuckling city guard, or the heir to the city.
• Manage quarreling actors, skeptical critics, deadly enemies, and a dancing bear!
• Uncover mysterious secrets from the Raven's past—and your own.
• Battle dark creatures with enchantment, swordplay, or spectacular monologues.
• Assassinate the city's tyrannical ruler, or win them over with your inspiring productions.
• Use your fabulous wardrobe to play whatever role will win the day.
We hope you enjoy playing The Play's the Thing. We encourage you to tell your friends about it, and recommend the game on Facebook, Twitter, Tumblr, and other sites. Don't forget: our initial download rate determines our ranking on the App Store. The more times you download in the first week, the better our games will rank.