Posted by: Mary Duffy | Comments (0)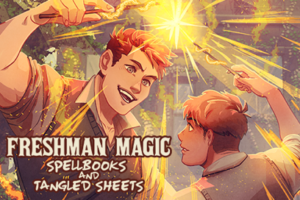 We're proud to announce that Freshman Magic: Spellbooks and Tangled Sheets, the latest in our "Heart's Choice" line of multiple-choice interactive romance novels, is now available for iOS and Android in the "Heart's Choice" app. You can also download it on Steam, or enjoy it on our website.
It's 33% off until June 2nd!
A magical murder mystery brimming with gay sex! At this college, you'll work up a sweat in dueling club, in the library, in the shower, and in your dorm.
Freshman Magic: Spellbooks and Tangled Sheets] is a 263,000-word interactive gay romance novel by Raven de Hart. It's entirely text-based, without graphics or sound effects, and fueled by the vast, unstoppable power of your imagination.
A magical dueling scholarship won you a spot at the prestigious Briarthorn University, one of the top magic colleges in North America. You expected a hard workload and even harder dueling practice sessions…you weren't expecting your classmates to be so distracting!
You'll have your pick when it comes to romance. Caleb's a redheaded jock in the dueling club with you. Halim is a sexy rich boy with flowing black hair, an enchantment major who works in the college library. Raimundo is a nerdy tutor, quick to blush behind his large, round glasses. Or will you prefer Alistair, the bad-boy demon summoner in tight jeans? With all the sexual energy floating around campus, you're even seeing your best friend, Noel, in a slightly different light.
But everything is not as it seems at Briarthorn. When students start disappearing from campus, it will be up to you to figure out what happened to them, who will be next, and how to save the school, and your own tail!
• Choose a magical subject to major in: alchemy, enchantment, magical theory, summoning demons, or combat magic
• Stay on the straight and narrow on the dueling pitch, or catch opponents off-guard with dirty tactics
• Decide exactly how far to go with a cast of lovers
• It's college! Party hard with your magical peers, or keep a low profile
• Study diligently in the library, or slip into the back room with the sexy librarian
• Find the best hookup spots on campus
• Relax with a friend to wind down after a tough practice — or heat things up in the shower instead
• Lose your heart to your chosen lover, but don't lose your life as your classmates vanish around you!
Be gay, do magic!
We hope you enjoy playing Freshman Magic: Spellbooks and Tangled Sheets. We encourage you to tell your friends about it, and recommend the game on Facebook, Twitter, Tumblr, and other sites. Don't forget: our initial download rate determines our ranking on the App Store. The more times you download in the first week, the better our games will rank.