Posted by: Mary Duffy | Comments (3)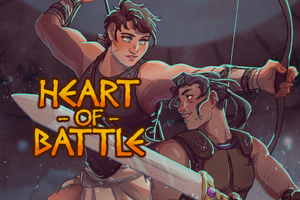 We're proud to announce that Heart of Battle, the latest in our "Heart's Choice" line of multiple-choice interactive romance novels, is now available for iOS and Android in the "Heart's Choice" app. You can also download it on Steam, or enjoy it on our website.
It's 33% off until August 18th!
Battle for love as a gladiator in this epic romance of swords and sandals!
Heart of Battle is a 255,000-word interactive gladiator romance by Fay Ikin, where your choices control the story. It's entirely text-based—without graphics or sound effects—and fueled by the vast, unstoppable power of your imagination.
As a prisoner of Coritan City, you had two options: rot in a dungeon or battle in the gladiatorial arena. You chose to fight—and as a star gladiator, you have the power to sway public opinion as nobody else does.
The city is divided, ruled by the glittering Illustrious who use their wealth and status to maintain their power over the struggling masses. A lucky few have access to magic as well: it can be used to heal, but it can also be used as a weapon, or to reinforce the bars of prisons.
Below them, rumors of revolution simmer—and nowhere more strongly than among the gladiators. Former soldiers, political prisoners, and prisoners of war now bide their time, plotting to rise up. Some just hope to escape to their own freedom; others want to bring down the entire oppressive system. Yet others seek to work within the hierarchy, currying favor among the Illustrious in the hopes of having their freedom bought by a wealthy patron.
In this treacherous web of alliances that you must navigate, the one certainty is your own heart. Will you find love with a gentle healer, haunted by a tragic past? A wealthy patron who could promise you a life of luxury? Or even one of your fellow gladiators, whose muscles and martial skill you admire through every battle: a fervent ex-revolutionary now condemned to the same servitude as you, or a bold daring warrior who seeks fame and glory.
What skills will you bring to the battlefield: domineering strength, agile cunning or force of personality? Will you accept your fate and build a reputation as a respectable, honorable fighter, relying on the aristocrats to free you? Or will you throw in with the rebels? Victory can mean a better life for you and your beloved—but what will you do if you find yourself on the opposite side of a gladiatorial match from the one you love? Or on the opposite side of a revolution?
Play as male, female, or non-binary; trans or cis; gay, straight, bi, demisexual, asexual, or aromantic.
Romance a gentle healer; a glory-hound gladiator; a wealthy patron; or an ex-revolutionary.
Choose your weapon: fight with sword, mace, bow, daggers, or bladed gauntlet.
Negotiate your way through relationships with your superiors, walk the balance of power between gladiators and guards, and clash with a bitter rival.
Win battles with honor, or scheme and cheat to take down your enemies.
Incite a riot—or even a revolution!
We hope you enjoy playing Heart of Battle. We encourage you to tell your friends about it, and recommend the game on Facebook, Twitter, Tumblr, and other sites. Don't forget: our initial download rate determines our ranking on the App Store. The more times you download in the first week, the better our games will rank.