Posted by: Mary Duffy | Comments (1)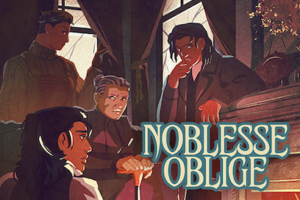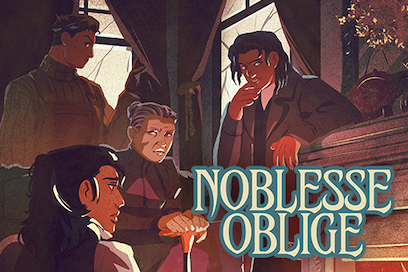 Spark romance amid secrets in a crumbling mansion! What will you sacrifice for love? Can you trust your own heart? Noblesse Oblige: a Crème de la Crème Adventure is a 137,000-word interactive Gothic romance novella by Hannah Powell-Smith. I sat down with Hannah to talk about her third game for us, and how it differs from her other work. Noblesse Oblige releases this Thursday, August 25th. You can play the first three chapters today for free.

Noblesse Oblige is your third game for us, and it is set in the same world as Creme de le Creme. I know our readers are going to be happy to be back there. What was behind the idea to return there?
I really enjoy writing in the Creme de la Creme setting and always had a sense of the wider world beyond Gallatin College lurking outside. There are hints about life elsewhere, but Creme de la Creme is very focused on a particular narrow section of society and concerns. In Noblesse Oblige I wanted to explore a different geographical and social area of that world while keeping the themes of upper-society glitz and corruption.
So in Noblesse Oblige you're working-class, you've been kicked out of university, and now you're in another country making choices about adventure vs security and how much money to send home to your parents. As the language tutor to Pascha, an aristocrat, the player ranks above a labourer or cook in the household hierarchy, but they're still an employee and are very much an outsider. It's a very different situation and tone, but some aspects and worldbuilding will feel familiar to Creme de la Creme players – and that newcomers will enjoy it too!
And this is a shorter game, which presents its own challenges to writing–I have always thought the short story a greater challenge than a novel.
I loved the challenge of making a shorter game! Though it's not technically horror, I took inspiration from horror and gothic novellas where things start a little off and escalate fast. The claustrophobic environment of the mansion, the pressured atmosphere, and the speed of ramping up tension all worked together with the shorter length to make a shorter but intense player experience.
It was really important for me to juggle several different elements: a satisfying playthrough length, time and space to get to know characters, while keeping the sprawling under control. Part of how I did it was making sure it's a lot of fun on a replay! Getting close with a different character will make for a very different experience, change the plot, and yield new revelations that may illuminate your previous playthroughs as well as the one you're on.
I was really (pleasantly!) surprised to find this is a very romance-laden game for such a short piece. That's often something writers don't focus on in shorter plot-driven pieces.
I enjoyed the challenge of building intense relationships over a relatively short amount of in-game time. Danelak, Pascha, and Rys all have secrets, regrets, and agendas, and it was important for me to create the feel of whirlwind relationships that might be bad ideas to dive into—but are compelling.
I had to be disciplined about the number of romances—initially I considered having four, but I'm glad I stepped back from that because it would have been spreading myself too thin. Having fewer romances gave me the opportunity to really delve into how the player feels about each character and be responsive to the player's self-expression and personality.
Because of the shorter length, I also made each romanceable character's desires and goals central to the plot – the characters became the plot that players engage with. It was great to dig into what the player wants, how that meshes with what the other characters are really desperate for, and give players the chance to make that happen in various ways – or betray them.
What did you learn from writing this one?
Honestly, Noblesse Oblige was a joy to write. I'm pleased with how the plots interweave and what juicy tidbits can be revealed from more playthroughs, and the shorter length meant more time for brushing up the prose on a sentence level. And I'm pleased with the intimate scenes, which are the spiciest I've published!
I also embraced flawed romanceable characters for Noblesse Oblige which was very freeing. Characters may act in ways that the player doesn't approve of, and the player will need to figure out what they'll do about it. I love when romanceable characters cause problems for player characters in games, and this time it was a lot of fun to go for it myself!
Unless our readers and forum-goers have been living under a rock, they know your next game is Royal Affairs. Tell us about that and how it's coming along.
In Royal Affairs you're the middle child of the Queen of Westerlin, attending school at Archambault Academy to build your leadership skills and prepare you to take on more royal responsibilities. You'll deal with family tensions, pressure to marry the right person (where several romance interests are deeply unsuitable), and political upheaval – all while figuring out who you are and where you stand. It's set a few years after Creme de la Creme, and you will encounter some familiar faces from that game while forging your own new path.
I've been working on Royal Affairs since the start of the pandemic, which was unfortunate timing. However! I'm getting towards the end of my draft now, writing some juicy and complicated plot climaxes that will have big repercussions for the state of the Creme de la Creme setting. It'll be lovely to see it out in the world after such a long time! I have lots of other game ideas for that universe too, so who knows what will come next…?