Posted by: Mary Duffy | Comments (0)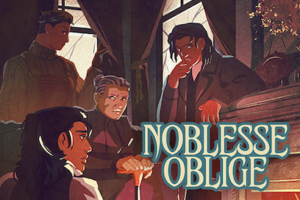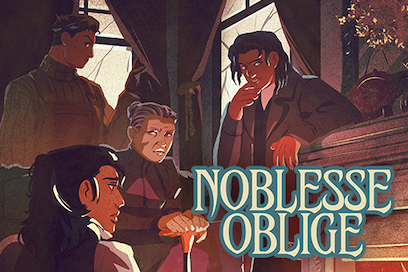 We're proud to announce that Noblesse Oblige, the latest in our popular "Choice of Games" line of multiple-choice interactive-fiction games, is now available for Steam, Android, and on iOS in the "Choice of Games" app.
It's 20% off until September 1st!
Spark romance amid secrets in a crumbling mansion! What will you sacrifice for love? Can you trust your own heart?
Noblesse Oblige: a Crème de la Crème Adventure is a 140,000-word interactive Gothic romance novella by Hannah Powell-Smith, a standalone story in the "Crème de la Crème" universe. It's entirely text-based, without graphics or sound effects, and fueled by the vast, unstoppable power of your imagination.
On a windswept island, far from the mild shores of Westerlin, stands the estate that is your new home. You have been hired to work as a conversation partner for a lonely aristocrat. It is a profitable opportunity, and your impoverished upbringing and middling university education leave you few others.
But secrets lurk in every darkened corridor, and nothing is what it seems. Why does your charge go wandering in the middle of the night, haunted and mourning? What does the charming new secretary seek to uncover? Why is your elderly employer so intent on keeping outsiders from prying into the family's business?
Attend grand balls, ride through fast-paced fox hunts, spend jovial evenings with the servants, teach diligent lessons to your charge, and observe—or take part in—this northern land's religious rituals. Meanwhile, there are webs of deceit for you to unravel, and deep mysteries to explore. When you reach the end, will you bring justice to those who deserve it, or keep their secrets buried forever?
And, of course, there is love: midnight trysts, stolen moments, and sweet warmth amid the cold. Your job on this remote island has just begun: will you work hard for a secure future or abandon everything to follow your heart?
• Play as male, female, or non-binary; gay, straight, or bisexual; monogamous or polyamorous; asexual and/or aromantic.
• Romance the forthright, flirtatious housekeeper who works hard and plays hard; your intense, zealous conversation partner desperate for tales of the outside world; or a charming, cultured stranger offering excitement and luxury but risking danger.
• Connect with those outside the estate to make a future elsewhere.
• Secure a shining reputation in your household, or shroud yourself in suspicion.
• Build steadfast bonds of loyalty—or shatter them.
Can you trust your own heart?
We hope you enjoy playing Noblesse Oblige. We encourage you to tell your friends about it, and recommend the game on Facebook, Twitter, Tumblr, and other sites. Don't forget: our initial download rate determines our ranking on the App Store. The more times you download in the first week, the better our games will rank.