Posted by: Kate Lascoutx | Comments (0)
Hosted Games has a new game for you to play!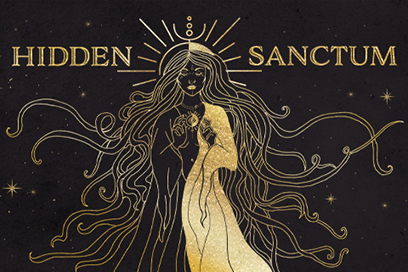 When a traitor dies, touched souls will give birth to a new world, while the old one drowns in despair, disease, wrath, lust, and madness.

Hidden Sanctum is an enchanting 360,000-word interactive modern fantasy game
by Dariel Ivalyen. It's entirely text-based—without graphics or sound effects—and fueled
by the vast, unstoppable power of your imagination. The story is set in a magical place
known as the Hidden Sanctum, where unique people—just like you—are taken to learn
the truth about the world and discover their true potential.

When your old neighbor calls you late in the evening and asks you to watch over her
daughter, you have no idea your whole life is about to be turned upside down. The girl
arrives at your door, but so does a legion of mechanical soldiers. You don't know why,
but they seem to be after you.

Under fire, you leave your home and start running. But where can you go? Will this be
your last journey, or will it be the beginning of your new life?

Play as male, female, or nonbinary; gay, straight, bisexual, or asexual.
Romance or befriend one of six unique characters. Will you get close to one of your fellow students, or will your heart draw you to an ancient Oracle?
Influence how your friends change throughout the game. Will you be kind to them and help them with their problems, or will you push them over the edge?
Choose one of five unique soul paths and reach your true potential!
Shape your personality and views. Each choice will define who you are!
Keep a diary and decide how you feel about certain events!
Speak with ancient gods and mythical creatures, or throw some punches. Will you try to punch a mummy?
Explore the Hidden Sanctum and uncover its secrets.
Save your new home from a threat that might destroy it from within.

Are you ready to become a touched soul and protect the Hidden Sanctum from danger? Are you ready to stand against the dark forces from a different universe and fulfill an ancient prophecy? Are you willing to do whatever it takes?
Dariel developed this game using ChoiceScript, a simple programming language for writing multiple-choice interactive novels like these. Writing games with ChoiceScript is easy and fun, even for authors with no programming experience. Write your own game and Hosted Games will publish it for you, giving you a share of the revenue your game produces.