Posted by: Mary Duffy |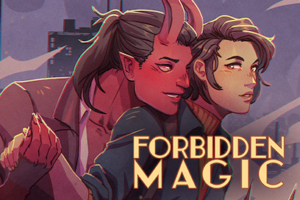 As a paranormal agent, your job is to keep magic under wraps. Can you catch a magical arsonist before you lose your heart?
Forbidden Magic is a 145,000-word interactive paranormal romance game by Frances Pauli, author of Brimstone Manor. I sat down with Frances to talk about her work and her process.
Forbidden Magic releases this Thursday, August 24th. You can play the first three chapters for free today.
This is your second foray into interactive fiction after your fantastic first Heart's Choice title, Brimstone Manor. But you're also a seasoned fiction writer. Please tell our readers about your other writing!
I write novels and short stories across the speculative genres, romance, and humor. Many of my stories feature animal characters, or animal-like aliens, or shifters. Very occasionally, I write about ordinary humans, but even then, you're likely to find an animal or two among the mix.
What did you find surprising about writing an interactive romance?
It's really challenging. I feel like reader (or player) expectations are very different from writing a linear narrative. It was interesting to see how readers of interactive romance have very distinct ideas about how they want to play their character and I enjoyed trying to give them enough options to satisfy so many diverse ideas.
Do you particularly enjoy writing in the supernatural genre?
I really do. There's something about the supernatural that fascinates me, in particular because it has echoes of our own, very relatable, reality but takes things one step farther into the fantastical.
Where did you find inspiration during the writing process?
Everywhere really. Story ideas seem to be all around us, in real life, in the news, in our dreams. I find the really challenging part is deciding which ones to focus on and turn into a working project.
What are you working on now/next?
Currently I am writing fantasy romances in a world populated by horses. The characters come from four different herds with striking differences and yet very universal challenges and feelings. I'm excited by the prospect of showing how individuals from distinct and separate origins can band together to face a shared foe, to discover their own heroism, and of course, find romance.