Posted by: Dan Fabulich | Comments (42)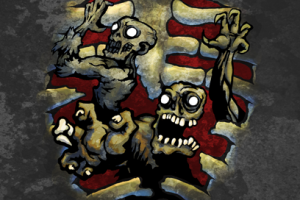 Choice of Games, the company that has already given you valuable psychological insight into dragons and vampires, proudly unveils its Zombiepocalypse survival training simulation: Choice of Zombies, by Heather Albano and Richard Jackson. Download it from the iOS App Store, the Android Google Play Store, the Amazon Appstore for Android, the Amazon Kindle Store for E Ink Kindles, or play it on our website.
In Choice of Zombies, you play an ordinary person caught in a zombie apocalypse. Can you stay alive long enough to get your friends to a place of safety? Will you keep your humanity intact or become a bloodthirsty zombie hunter? And can you discover the secret behind the zombie virus?
We hope you enjoy playing Choice of Zombies, and we encourage you to tell your friends about it, wear your Zombiepocalypse t-shirt wherever you go, and recommend the game on StumbleUpon, Facebook, Twitter, and other sites. Don't forget: our initial download rate determines our App Store ranking. Basically, the more times you download in the first week, the better Choice of Zombies will rank.
UPDATE 4/23: Added link to Kindle Store