Posted by: Dan Fabulich | Comments (5)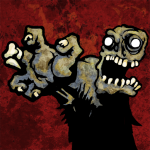 The Kindle Zombie Watch was upgraded to a Zombie Warning on Monday, following eyewitness reports of zombie sightings on the Kindle platform. Kindle users are advised to stay indoors and practice Zombiepocalypse Survival techniques with Choice of Zombies from Choice of Games.
Or, just search for "Choice of Zombies" on your Kindle.
The game is also (still) available on the iOS App Store and the Android Google Play Store.