Posted by: Dan Fabulich | Comments (4)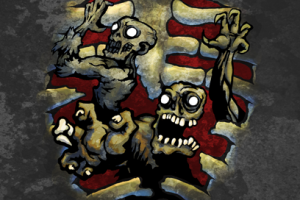 Mark your calendars! Choice of Zombies, our newest game from Heather Albano and Richard Jackson, will be released on Friday, April 13th. Download it this Friday from the iOS App Store, the Android Google Play Store, the Amazon Appstore for Android, or play it on our website.
If you'd like to be reminded when our game is available, subscribe to our blog on the right-hand side of this page, or follow us on Twitter, Facebook, or Google+. We'll run one more blog post on Friday to post download links.
In the meantime, we're running a Zombiepocalypse countdown on Twitter/Facebook/G+, featuring quotes from the game.
Monday: "A cat food can is a pretty reasonable weapon, actually."
Tuesday: "The zombie's hand comes off. With your new third hand, you wedge the accelerator down."
Wednesday: "The zombie baby starts to throw a little tantrum as it strains to bite you and fails."
Thursday: "You look into his soft gooey eyes. After you've eaten his eyes, you could eat his brains."