Posted by: Dan Fabulich | Comments (1)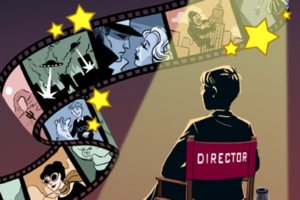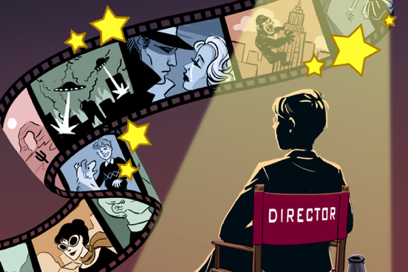 We're proud to announce that Hollywood Visionary, the latest in our popular "Choice of Games" line of multiple-choice interactive-fiction games, is now available for Steam, iOS, Android, and Kindle Fire. It's 40% off during launch week.
Make the movie of your dreams amid the glamor and romance of 1950s Hollywood!
"Hollywood Visionary" is a 150,000-word interactive novel by Aaron A. Reed, where your choices control the story. It's entirely text-based–without graphics or sound effects–and fueled by the vast, unstoppable power of your imagination.
As head of your own movie studio, you call the shots: hire Hitchcock, seduce Garbo, build your studio into an Oscar-winning powerhouse or star in a B-movie train wreck. Control everything about your production, from genre to casting to building up buzz.
Do you have what it takes to become a Hollywood visionary?
Conquer the movie biz as a writer, director, producer, actor, or editor
Banter with Hollywood royalty like Orson Welles and Greta Garbo
Choose from dozens of genres and modifiers to make your film unique
Five possible endings to discover
Find love or throw yourself into your art: extensive but optional romance plots
Win an Oscar, create a cult classic, or languish in film obscurity
Will you name names for the blacklist, or risk everything to uphold your artistic ideals?
150,000 words of content
Flexible gender presentation: independently control your pronouns, appearance, titles, and romance options
About the Author: Aaron A. Reed is an award-winning author of interactive narratives. His games have been featured at Slamdance, IndieCade, IndieCade East, the Independent Games Festival at GDC, and in exhibitions of "electronic literature" around the world. His textbook "Creating Interactive Fiction with Inform 7" is the leading reference on the popular language for digital storytelling. His interactive novel "Blue Lacuna" was named one of the Top 10 Interactive Fictions of all time in a recent poll. Aaron lives in Santa Cruz, California.
We need your support to continue delivering our games on Steam. Our goal is to release our entire catalog of interactive novels on Steam. Based on the extraordinary performance of Choice of Robots and The Hero of Kendrickstone, both which made it onto Steam's front page this year, Valve has allowed us to ship a handful of additional games. We'll need to continue to deliver outstanding results to prove that interactive fiction can be successful on Steam.
We're asking all of our fans to follow us on Steam. Even if you don't use Steam that much, it will be a big help if you sign up to follow us there, because the more followers we get, the better visibility we get on Steam's curator list. (Our goal is to hit 3,000 followers for our Steam curation page; we're about 45% of the way there as I write this!)
When you follow us, you'll see our games and our recommended games right on your Steam home page. It's free, and it's a big help to us, so follow us today!
We hope you enjoy playing Hollywood Visionary. We encourage you to tell your friends about it, and recommend the game on StumbleUpon, Facebook, Twitter, and other sites. Don't forget: our initial download rate determines our store ranking. The more times you download in the first week, the better our games will rank.